Exclusive
Jaws Of Steel! Madge Blings Up Her Teeth, As Doc Reveals She's Likely Had A Brow Lift -- PLUS Filler In Lips & Cheeks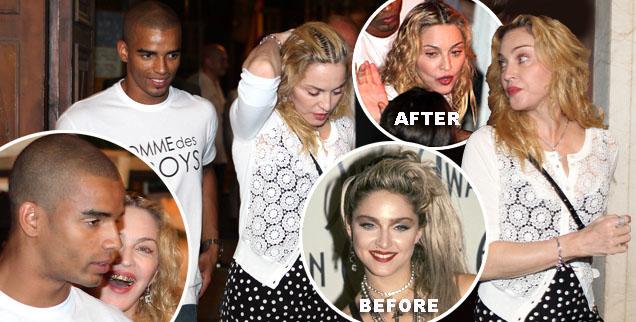 While Madonna flaunted her gaudy grill over the weekend, Beverly Hills plastic and reconstructive surgeon Lance Everett Wyatt says the aging superstar's tacky teeth ­ and old-lady outfit -- couldn¹t distract from her uneven nips and tucks!
"Madonna looks overdone," Dr. Wyatt told RadarOnline.com.
"The lines underneath her eyes, from corner of her nose to corner of her mouth and mouth to chin are common findings of a woman in her mid-50's. The procedures she had done do not address these issues according to these photos and makes her whole face look weird. She looks artificially young. She looks incompletely young. They puffed up her face without addressing her neck!"
Article continues below advertisement
Madonna displayed her bizarre fashion accessory, which includes 24 diamonds in an open-tooth design that showed off her own pearly whites underneath, in the south of France with boy-toy Brahim Zaibat.
The demurely dressed 54-year-old ­ she wore a grandma-like polka-dotted dress and cardigan sweater -- attended the annual Festival de Musique de Menton, a celebration of classical music with performances from a range of global artists.
While all eyes may have been focused on the Madonna pairing her urban mouthpiece with a prim frock, our eagle-eyed expert zeroed in on the Material Girl's ever-changing mug ­ especially her mismatched face and neck.
"What stands out most about Madonna's look are the arched eyebrows puffy lips and cheeks," the top doc adds.
"She may have had a brow lift with a filler placed in her lips and cheeks. The net result of these procedures however is a face that appears out of balance and overdone. While some patients may like this look most of my patients want to restore youth and beauty and a natural way. Again, Madonna's aging neck does not match her puffy overdone face."