Sean Penn Slams Robin Wright & Madonna, Marriages Were Fraud, Moans He's Never Been Loved!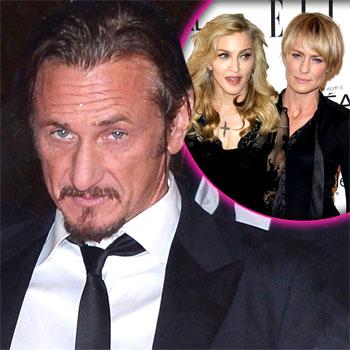 Apparently Sean Penn doesn't look back at his former wives fondly!
The Academy Award winning actor, who was famously married to both Madonna and Robin Wright, has some not-so-nice things to say about his exes in a new interview with Esquire – and RadarOnline.com has the details.
"There is no shame in my saying that we all want to be loved by someone," Penn reveals. "As I look back over my life in romance, I don't feel I've ever had that. I have been the only one that was unaware of the fraud in a few of these circumstances blindly."
Article continues below advertisement
Penn, who was married to Madonna from 1985-1989 and Wright from 1996-2007, continued to vent about his failed romances.
"When you get divorced, all the truths that come out, you sit there and go, 'What the f--k was I doing? What was I doing believing that this person was invested in this way?' Which is a fantastically strong humiliation in the best sense. It can make somebody very bitter and very hard and closed off, but I find it does the opposite to me."