Madonna's 8-Years Older Than New Beau's Mom!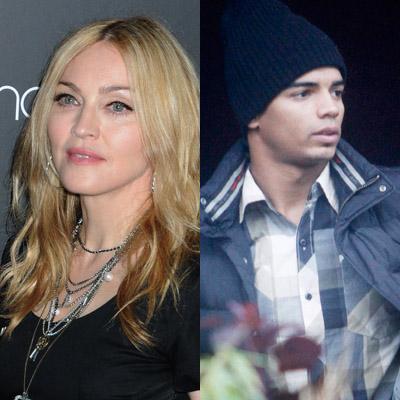 It will be interesting if Madonna gets to meet her new boyfriend Brahim Zaibat's mother at Christmas - because the Material Girl is 8 years older than her!
LONG LOST PHOTOS: Madonna - Before She Was Famous
French dancer and choreographer Zaibat, 24, opened-up in a magazine interview about his new relationship with the 52-year-old superstar who likes dating much younger men.
Zaibat -- who still lives in a modest council home in Lyon, France -- played down the difference in age between his mother Patricia Vidal and his famous girlfriend amid claims that his mom did not approve of the relationship. He told journalists from French Grazia Magazine: "To make things clear. Lots of stories are going around about me and some are completely false.
Article continues below advertisement
"Those about my supposed edgy past in the suburbs, for example. All the claims of my mother, completely invented.
"Now I want to speak for myself, I hope so that people can discover a little bit about who I really am."
Zaibat explained that his relationship with Madonna had made him suspicious of old friends and that he has also changed his mobile number too.
Asked about their first meeting in New York, Brahim revealed that the pair met on September 22nd at the launch of Madonna's new ready-to-wear clothing range.
He revealed: "My mate Norman, who danced for her and who became her personal trainer, asked me to dance at the evening. I performed a solo to Material Girl. Then I met Madonna on the sidelines, and she just thanked me for my show.
"It wasn't like meeting a monster! She's just a woman like all the others. She's an extraordinary artist and world famous, of course, but a woman above all.
"You know she wasn't the first well known female singer I'd met. I was delighted to meet her but not stressed out.'
Article continues below advertisement
"Brahim said his first words to Madonna were 'Hi, how are you?' adding cheekily: 'I'm not saying things have gone very fast since then, but things have happened in order.'"
Madonna's new relationship has come under the spotlight because not only is there a 28-year age difference between the pair, but he's a devout Muslim while she is a follower of Kabbalah an ancient Jewish religion.
He even admitted he was not a big fan of her music while he was growing-up although he knew her songs.
The modest dancer claimed that it was just an accident that their relationship had become public and wasn't any publicity stunt.
He added: "It wasn't her deliberate decision and it wasn't mine. We were in a club and we were seen dancing together.
"It was because it was Madonna that the affair took on massive proportions. Nothing was calculated by us. We had a nice night together without thinking that there might be paparazzi there."