Madonna Debuts Puffier Face At Opening Of Mexico Gym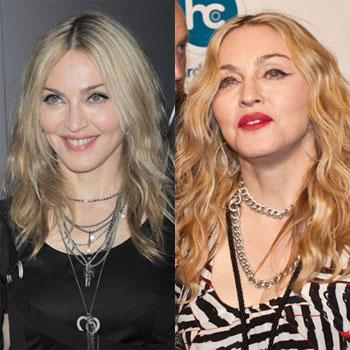 In less than a month, Madonna's face has undergone a dramatic overhaul and RadarOnline.com has photos of how the superstar's face has changed in two months.
LONG LOST PHOTOS: Madonna - Before She Was Famous
On September 22, 2010, the 52-year-old was snapped looking her usual lean self but on November 29, 2010, her faced looked much fuller and puffier at an appearance in Mexico City to open her new posh gym Hard Candy.
Article continues below advertisement
Taking center stage at the fitness facility, Madonna raised some eyebrows with her new look.
The clean living superstar has denied having plastic surgery but her line-free forehead, rounded chin and swollen lips, suggest differently.
New members at Hard Candy have a constant reminder of the Material Girl: a huge mural of Andy Warhol- style images of the Madonna greets them as they walk through the front doors.
The 30,000-square-foot building is located in the city's upscale Bosques de las Lomas neighborhood.
The Sexiest Bi-Sexual Stars In Hollywood
Madonna attended the ribbon cutting ceremony dressed in a black and white striped dress and thigh-high boots. Hundreds of screaming fans greeted her as she made her way down the red carpet.
The star said she chose Mexico City because it was a stop on last year's Sticky & Sweet tour, which grossed $408 million, and she liked the energy of the people.
Article continues below advertisement