EXCLUSIVE DOCUMENT: Madonna Sued Over 'Material Girl' Clothing Line; Read The Lawsuit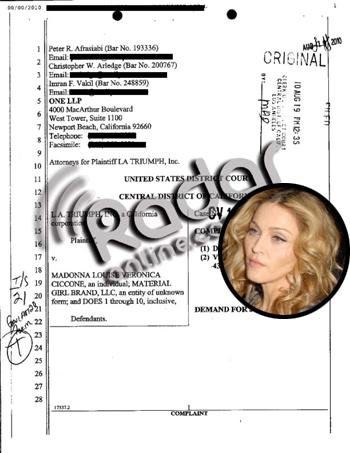 Superstar Madonna has been slapped with a lawsuit over the junior clothing line that she designed with her daughter Lourdes Leon, RadarOnline.com has learned.
Clothing company LA Triumph is disputing the star's rights to use 'Material Girl' for her trendy new range.
EXCLUSIVE DOCUMENT: Read The Lawsuit Against Madonna
LA Triumph filed the lawsuit at California Central District Court on Thursday, claiming that it had been manufacturing clothes under their Material Girl brand since 1997.
Article continues below advertisement
A statement from their attorney read: "Our client and its predecessor have been continually selling similar clothes in similar retail outlets at similar price points under their Material Girl brand since at least 1997, and Madonna and her newfound company do not have the right to trade in the same space under this brand."
The clothing line's lawyer claimed that LA Triumph ran 'a risk of being subsumed by Madonna's profile, obvious worldwide notoriety'.
The superstar and her daughter recently launched their new line which is being fronted by Gossip Girl star Taylor Momsen.
When the 80's inspired clothing collection was launched at Macy's recently, fans dressed in Madonna-inspired duds, nibbled on cupcakes and danced to the iconic pop star's greatest hits.