Inside Casey Kasem's 'Lovely' Private Memorial Service: Widow Jean Skips Event, But Radio Icon Well Honored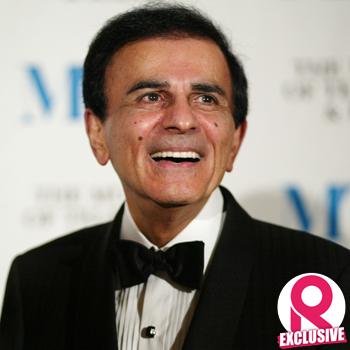 The late Casey Kasem was remembered in a private service attended by about 250 guests at the Bel Air Presbyterian Church over the weekend, a former employee who attended the 90-minute event tells RadarOnline.com exclusively.
"I gave my condolences to the kids and as you know that was very emotional," the guest told Radar, noting that he hadn't seen them in more than two decades since he was let go from employment by Kasem's widow Jean, who was not in attendance (nor was her daughter Tiffany) after an acrimonious battle with the Kasem children over how the 82-year-old mogul was being cared for.
Article continues below advertisement
The radio pioneer was honored by music industry luminaries such as Don Pitts, Guy Aoki, Mike Curb, and one of his favorite tunes, "Send In the Clowns," underscored the solemn event. A photo montage displayed at the event even showed pictures of Jean, who has been on the wrong end of accusations of cheating and elder abuse in recent weeks.
"It was very nice because it was for Casey, not the battle," our source said. "I don't know where this will go, but he didn't deserve the way it ended. If it were me, I'd give her exactly what she deserved."
The source said that "right now, Jean has cut a lot of people off and is letting her attorneys deal with it."
The source condemned Jean's actions in the past few years, saying that she "shut everyone totally out of this man's life.
"Nobody knew what happened to Casey … the fact that he was misdiagnosed was frightening. If they could have done any more for him, I don't know. But the living conditions they had him in were inexcusable."
The source said that the radio legends send off was a touching and "lovely" farewell to the iconic broadcaster, recalling some of his best points.
"Casey was very private and humble, but so gracious. If you asked for an autograph he'd say what's your address so he knew it would get to you."
We'll keep you updated on the latest in this story, right here on Radar.