Caught Cheating? Casey Kasem's Wife Allegedly Seen Kissing Younger Man As The Radio Legend Was On His Deathbed, Claims Daughter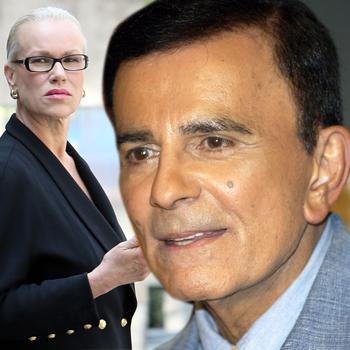 Talk about the ultimate betrayal.
The bitter family feud that has taken place between his wife and adult children over Casey Kasem's treatment has now taken another shocking turn, as Jean Kasem, his wife of 33 years, has been accused by the "American Top 40" host's 41-year-old daughter Kerri of cheating on the late 82-year-old radio legend while he was dying of a rare form of dementia, according to an exclusive report in The NATIONAL ENQUIRER.
Article continues below advertisement
The 60-year-old widow of Kasem — who succumbed from complications stemming from the ailment, known as Lewy Body Disease, on Sunday — was allegedly seen by a neighbor kissing a younger man who happens to live in their Malibu home, according to the report.
In recent months, the broadcasting star's declining health had made headlines, as he was put in the middle of a longstanding dispute between the Cheers actress and his three adult children, who began a protest in October 2013 outside their father's Los Angeles home, demanding that their stepmother allow them to spend time with their sick father.
A judge sided with Kerri on June 1, yet Jean refused to allow her into the home, and later threw raw meat at her during a heated argument.
Kerri made the allegations in court documents obtained by The ENQUIRER, which also state that her beloved father, who was first diagnosed with Parkinson's disease in 2007, told a doctor he believed he was divorced from Jean for years.
"Witnesses will testify that Mrs. Kasem has been lying to Mr. Kasem for at least two years, telling him that they are divorced," wrote Kerri's attorney Troy Martin in court documents obtained by the ENQUIRER.
Article continues below advertisement
"So, why would she lie? Perhaps the younger gentleman that is staying at the Malibu house and driving Mr. Kasem's car could answer that question for us."
And an investigator hired by Kasem's daughter claimed to the ENQUIRER that just four days before Casey's death in a Gig Harbor, Wash. hospital — more than a month after Jean removed him from a California nursing home — the undercover couple were allegedly spotted in a lip lock.
"They had a smoke together, then they hugged and they kissed," the investigator told the magazine. "They kissed twice – once inside the car and another time out of the car."
The people who live near the Kasem's in the beachfront property were also skeptical of the health care she gave 82-year-old husband.
"I saw she had a housekeeper come in from 7 a.m. to 7 p.m. and she left him all alone," a neighbor told The ENQUIRER. "Jean would come back to the condo to relieve one of the housekeepers and replace her with another housekeeper – not a nurse. It was horrible – it looked like she abandoned him.
"This was about 2009, and it lasted for about a year and a half while their Beverly Hills area estate was undergoing construction."
In his final days, a judge gave Kerri the authority to order doctors to end her father's infusions of water, food and medicine, which were her father's wishes.