Casey Kasem: Daughter Decides To Withhold Ailing Father's Food & Medicine; Wife Jean Under Elder Abuse Probe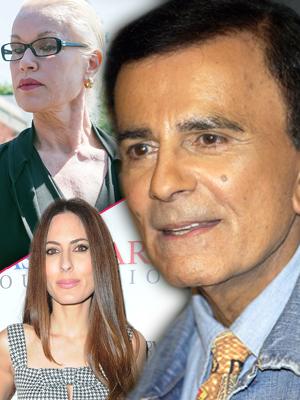 The sad saga of Casey Kasem's final days plodded on Thursday, as the radio pioneer's 41-year-old daughter Kerri Kasem will enact her legal right to withhold food, medicine and water from her ailing father, after Los Angeles Superior Court Judge Daniel S. Murphy granted her the right to do so Wednesday, citing the ongoing suffering of the ailing America's Top 40 host.
The judge reversed a previous Monday ruling in Wednesday's emergency hearing after reviewing the medical records of the radio icon, Kerri Kasem's attorney Troy Martin said.
Article continues below advertisement
Kasem's wife Jean Kasem, who has battled the 82-year-old's family over the past few months, yelled "You have blood on your hands," after the judge made the bold ruling, criticizing the 59-year-old's decision to take him out of Berkley East Convalescent Hospital in California on May 7, and eventually transporting him to a private home in Washington. (She said he could receive care via a specialist there.)
Watch the video on RadarOnline.com:
youtube=https://www.youtube.com/watch?v=m993fT3Qang&w=560&h=315
The blonde actress, of Cheers and The Tortellis fame, might also face criminal charges for her aforementioned actions, according to online reports, as Kerri Kasem told authorities with the Santa Monica Police Dept. that her father's wife of 34 years subjected him to elder abuse in the May 7 move, as the relocation and treatment, or lack thereof, he received at the Washington resulted in life-threatening bedsores.
Article continues below advertisement
Jean Kasem's lawyer Steve Haney called the decision "just flat out wrong," saying that Casey Kasem still had the ability to communicate no verbally, and defended his client's decision to take him to Washington, as he said that it "in no way contributed to his situation" with the infected bedsores.
The radio host, who famously provided the voice of Shaggy on the cartoon Scooby Doo, is currently at a Washington hospital in critical condition.
We'll keep you updated on the latest in this story, right here on Radar.