Exclusive
Mickey Rooney Will Rest In Peace As Bitter 'Elder Abuse' Feud With Stepson Is Resolved In Court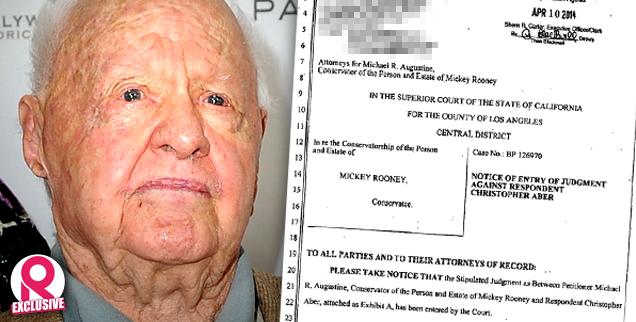 Just over one week after Mickey Rooney's death, the screen legend will finally rest in peace. RadarOnline.com has exclusively learned that Rooney's long-running court battle with his stepson Chris Aber has finally finished.
According to court documents obtained by RadarOnline.com, a court judgement was reached last Thursday, April 10, which drew to a close the three-year battle in which Rooney had accused his stepson of numerous charges including elder abuse, fraud and neglect. Aber, 52, and his wife Christina, 37, had been looking after Rooney for more than 30 years.
Article continues below advertisement
The Hollywood actor spent millions on the legal fight, but died before he could see the suit come to a conclusion, when he passed away on April 6 at the age of 93.
The judgment passed down by Los Angeles Superior Court states that Rooney's conservator Michael Augustine and Aber 'have agreed to resolve all the matters of controversy between them and have consented to the terms of this judgment."
It states that "a Judgement shall be entered against Respondent Christopher Aber in the amount of Two Million Eight Hundred Sixty-Five Thousand Dollars and No Cents."
These were the damages Rooney's Estate was after, but the judgement notes that it can't "enforce" the payment "in any manner whatsoever."
The documents continue, "The Conservator warrants and agrees that this Stipulated Judgement may only be enforced as against Fire Insurance Exchange insurance policy."
Article continues below advertisement