Mickey Rooney Cut 8 Children Out Of His Will Just Days Before Settling Elder Abuse Lawsuit Against Stepson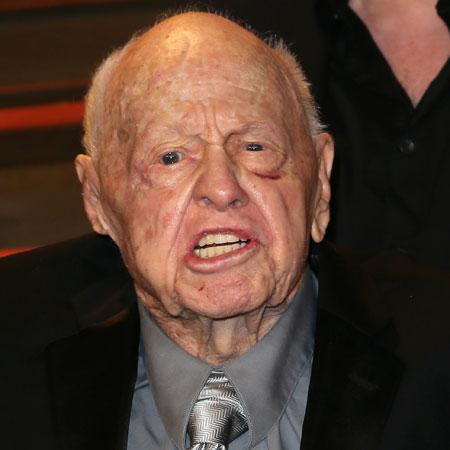 In his will, Mickey Rooney disinherited his eight children and left his modest estate to his stepson and caretaker Mark Rooney, just weeks after a judge in Los Angeles signed off an a settlement stemming from an elder abuse lawsuit the revered actor had filed against another stepson, Chris Aber, and his wife, Christine, RadarOnline.com is exclusively reporting.
According to the AP: Mickey Rooney's conservator, attorney Michael Augustine filed the 93-year-old's will with the probate court in Los Angeles on Tuesday.
Article continues below advertisement
However, a last minute agreement was reached late Tuesday, prohibiting Rooney's body from being moved from the mortuary until a court hearing on Friday which will determine where he will be buried.
Just over a month before Rooney died, a formal settlement was formally signed off on a $2.8 million settlement which stepson, Chris and his wife, Christine, allegedly stole from the Breakfast At Tiffany's star.
Article continues below advertisement
According to the settlement agreement, "Chris agrees that judgment shall be entered … in the amount of $2,865,000. Mickey Rooney agrees that for good and valuable consideration, this judgement is unenforceable and uncollectable as against Chris and Christina, and their heirs.
"Mickey Rooney agrees that the judgment to be entered to Paragraph 3 above can only be enforced against a policy of insurance, and not against Chris or Christina or their heirs."
Just last year, Rooney testified before Congress about elder abuse and the need for laws and reforms to protect senior citizens from predatory relatives and outside influences.
We'll keep you updated on the latest in this story, right here on RadarOnline.com.