Exclusive
Mickey Rooney's Sad Last Days: Forced To Sell Autographs After Being Fleeced Of Millions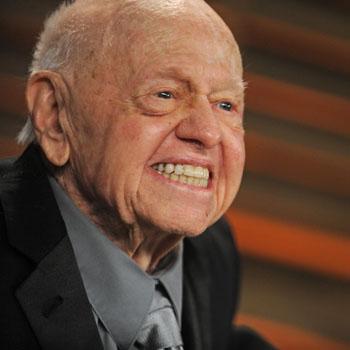 In the years leading up to his death on Sunday, legendary actor Mickey Rooney faced mounting financial problems and was so cash-poor he resorted to selling autographs to survive, RadarOnline.com has exclusively learned.
Although Rooney's career spanned more than 80 years and won him two Academy Awards, the 93-year-old was forced to attend autograph signings in order to make some fast cash, a pal, the memorabilia expert Nelson Deedle, said Monday.
Article continues below advertisement
"He never thought he'd live into his 90s, so he had financial difficulty. He hadn't planned financially because he didn't think he'd live that long," Deedle told Radar.
Although Rooney reigned from 1939 to 1942 as the No. 1 moneymaking star in movies, he looked for ways to make money outside of acting gigs when his star began to fade.
"He was this huge star, so his memorabilia was marketable. He could easily make five to ten thousand dollars per autograph signing," Deedle revealed.
The cash-strapped actor, who died after a long illness, had even planned to attend another autograph singing in two weeks, Deedle said.
He had suffered as a result of a disturbing elder abuse case during which Christopher Aber and his wife Christine allegedly robbed Rooney blind after wresting control of his personal and financial affairs.
It was claimed the couple even prevented Rooney from receiving his daily medication and food when visiting his home in Westlake, Calif.
Article continues below advertisement
The eight-time married star was subsequently placed under the conservatorship of his lawyer who began suing to reclaim his fortune.
But the couple later declared bankruptcy, claiming they did not have the money to pay back a $2.8 million settlement, which had been negotiated.
Opening up about Rooney's debt, his pal admitted the actor would have likely sold his two honorary Oscars for some extra cash.
Unfortunately, the iconic actor was held to the Academy Award regulations, which prohibit public auctions and private sales of Oscar statuettes made after 1951.
"His Oscars would probably bring $50-75,000 each, in my opinion," the friend added.
"He could have used the money, but unfortunately, you can't sell them. It's like having a golden goose that you can't do anything with.
"Honestly, if he earned the Oscar, he should be able to do whatever he wants with it," Deedle said.