Exclusive
Battle Rages Over Mickey Rooney's Body: Restraining Order To Be Placed On Remains Until Court Decides Where To Bury Actor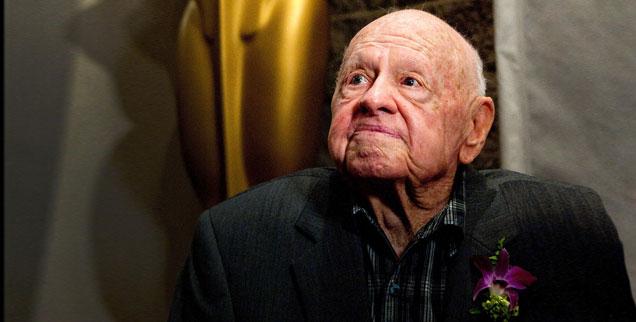 A restraining order is likely to be placed on the body of late actor Mickey Rooney as his feuding family contest where he should be buried, RadarOnline.com has exclusively learned.
Lawyers for Rooney will square off with representatives for his wife Jan Chamberlain, 75, at Los Angeles Superior Court's probate section on Tuesday where they'll ask for a protective order on the screen legend's remains until it can be determined what to do with it.
Article continues below advertisement
According to a family source, his eighth wife Jan is determined that Rooney, who died at age 93 on Sunday, be quietly buried next to his mother.
But Rooney's lawyers are said to want a grand Hollywood funeral that could cost tens of thousands of dollars. Their bid is being supported by other members of the family, including his stepson Mark Aber, whose home the two-time Oscar-winning actor was at when he died.
A source told Radar: "Mickey's lawyers claim this is what he would have wanted, but Jan knows him best and he wanted to be next to his mom.
"But the lawyers don't trust each other, in essence. They're going to court and slapping a restraining order on the body.
"Believe it nor not, there's that much paranoia that everyone is scared the other side could sneak in, plan a funeral and take the body, as absurd as that sounds.
Article continues below advertisement
"So it's going to remain with the state until the issue is resolved. Normally this could be done amicably, but it has got to go through the courts as there's so much bad blood between Jan and Mark, who was caring for Mickey when he died.
"Each side will tell the judge what they plan for the body and then they will be forced to cooperate with each other.
People We Love! Hollywood's Most Inspiring Rogues, Renegades & Rule Breakers
"It's all really sad, as the only winners in this are the attorneys who make money of it all."
Less than 24 hours after his death, the full extent of the family rift over the beloved star became apparent, amid claims from his stepson, Christopher Aber, that Rooney was a "hostage" and had been forcibly kept apart from Jan.
"The sad part is that my mother has not been with my father for the last year, they're not divorced, they're legally married, living separately," Christopher told the MailOnline.
Article continues below advertisement
Shocking Stories You Didn't Believe But Turned Out To Be True
"Mickey has been living apart with my brother. He was put in charge of Mickey, and he moved him to Studio City, they got to live freely, getting paid to look after him."
Christopher, who was accused of stealing $2.8 million from Rooney, said his own father saw Rooney at a deli last week.
"Mickey grabbed him by the arm and said, 'Please tell Jan I love her', he was crying. They were keeping him from access to a phone, they kept him hostage."
A source close to Jan, who married the actor in 1978, said: "She just wants the best for him. If she does have to have a big celebrity funeral, it's only right she should be at the front hosting the event rather than having to plead for an invite."