Ava Gardner's Deathbed Confessions: Raunchy Tale Of Sex With Sinatra, Rooney, Mitchum & Howard Hughes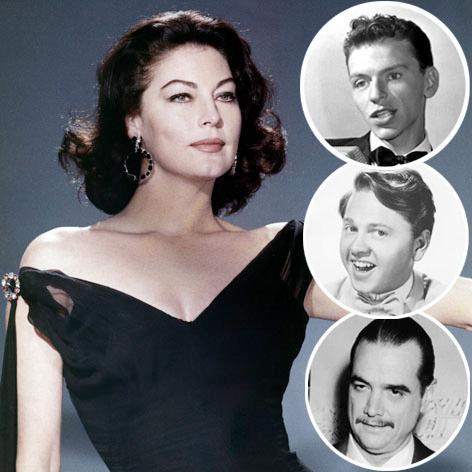 Ava Gardner was a broke alcoholic when in 1988, in a desperate bid to raise some cash, she decided to write her memoir and made what turned out to be a deathbed confessions detailing her many affairs and marriages.
She died in 1990 after canceling the project and her ghostwriter, Peter Evans, took the tapes to his grave last year.
Now they've been compiled in a new book, Ava Gardner: The Secret Conversations and the book is giving new meaning to tell-all.
Article continues below advertisement
Her first husband was Mickey Rooney who she revealed had the nickname Mickey Hard-On.
She quotes Rooney as saying, "I wanted to f**k you the moment I saw you." Gardner was an 18-year-old virgin at the time, and told Evans, "I was shocked. He'd screw anything that moved."
He even cheated on Ava - then one of the most glamorous women in Hollywood -- within the first months of their marriage while she was in the hospital having her appendix out.
An affair with Howard Hughes followed, and Ava revealed he was a strident racist.
The Barefoot Contessa and Killers star married and divorced band leader Artie Shaw who she called a "bully" and then simultaneously dated Frank Sinatra and Robert Mitchum, both of whom were married at the time.
She said she was "crazy about" Mitchum but when she told him she was also seeing the Chairman of the Board, he told her, "Get into a fight with him, and he won't stop until one of you is dead."
Article continues below advertisement
Not wanting Sinatra to think that he was competition, Mitchum stepped out of the way.
Sinatra left his wife and he and Gardner wed. They had one of the most tumultuous marriages in Hollywood history, and divorced in 1957. It was her last marriage.
Numerous affairs followed including a brutal one with George C. Scott. While co-starring in 1966's The Bible: In The Beginning, Scott beat her up so badly, Gardner had to be hospitalized.
Ava Gardner: The Secret Conversations is already getting rave reviews. It comes out July 3.