Exclusive
Mickey Rooney's Will Reveals He Was Worth Only $18K When He Died PLUS Other Shocking Details On The Fight Over His Body!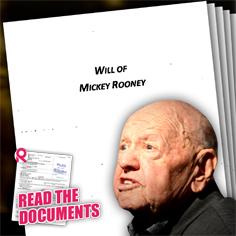 Once the toast of Hollywood, Mickey Rooney's life ended in relative squalor at the age of 93. Now, only RadarOnline.com has all the details on just how far his fortunes had fallen thanks to an exclusive look at his shocking will, which reveals he was worth only $18,000 at the time of his death -- and that his family is fighting over where to move his body!
According to the will, obtained by Radar, Rooney was worth$18,000 at the time of his death, and left his estate to his step-son and caretaker, Mark Rooney. He named attorney Mark Augustine as executor.
Article continues below advertisement
Augustine subsequently asked a Los Angeles judge to grant him the legal authority to control and direct the disposition of the 93-year-old actor's remains, according to documents obtained by Radar, because of fears estranged wife, Jan, and her son, Chris Aber are allegedly attempting to remove Rooney's body from Forest Lawn Memorial Park, against the deceased star's wishes, RadarOnline.com is reporting.
READ The Shocking Will & Related Documents
As such, Augustine is asking a judge to give him Letters of Special Administration which would give him the power to "control and direct the disposition of the remains of Mickey Rooney, the power to control and direct the location and condition of internment of Mickey Rooney, the power to control and direct the arrangements for funeral goods and services to be provided for Mickey Rooney."
Article continues below advertisement
The conservator filed the docs because Forest Lawn Memorial Park has indicated "they will release the body to Jan and Chris absent an immediate court order."
In the will, which was signed on March 11, financially plagued Rooney revealed he had been living apart from Jan for the past year.
Furthermore, Rooney said, "I have intentionally omitted to provide in this will for the following specifically named or referenced persons: Jan and her descendants (other than Mark Rooney), Christopher Aber, Christina Aber, Mickey Rooney Jr.," and his other children.
Article continues below advertisement
People We Love! Hollywood's Most Inspiring Rogues, Renegades & Rule Breakers
According to the settlement agreement, "Chris agrees that judgment shall be entered … in the amount of $2,865,000. Mickey Rooney agrees that for good and valuable consideration, this judgement is unenforceable and uncollectable as against Chris and Christina, and their heirs. Mickey Rooney agrees that the judgment to be entered to Paragraph 3 above can only be enforced against a policy of insurance, and not against Chris or Christina or their heirs."
The Abers filed for Chapter 11 bankruptcy in 2012. Sources tell Radar Rooney's estate plans on going after a homeowner's insurance policy held by the Abers in attempt to recoup the judgment.
Rooney testified before Congress about elder abuse and the need for laws and reforms to protect senior citizens from predatory relatives and outside influences.