Exclusive
The Fight For Mickey Rooney's Estate Heats Up — His Children Now Want A Slice Of The Fortune!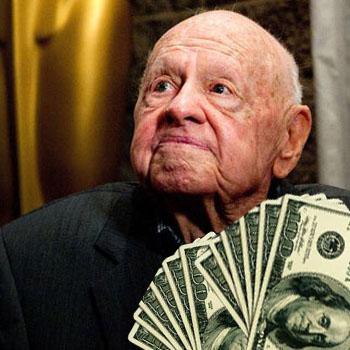 There's no rest for the weary — or the deceased!
Mickey Rooney has been dead for just one week and his children have now joined in the bitter battle for the late actor's fortune, RadarOnline.com is exclusively reporting.
On April 9 RadarOnline.com exclusively revealed that all eight of his surviving children had been cut out of his will and the sole heir was his stepson, Mark Aber, who was caring for the Hollywood legend in his dying days.
Article continues below advertisement
This infuriated Rooney's wife Jan — the mother of Abner — who is claiming that the new will is invalid as it was made out a month before the Hollywood legend died and he wasn't in a fit frame of mind to know what he was doing.
Headed by his daughters Kimmy Sue and Kelly Ann, the children got involved and have hired a legal team to look at the will and see if there are any loopholes in it, because they're furious about being cut out of the deal!
Article continues below advertisement