Exclusive
Sad Reality: He Died Broke, But Cash-Strapped Mickey Rooney Could Be Worth More Dead Than Alive!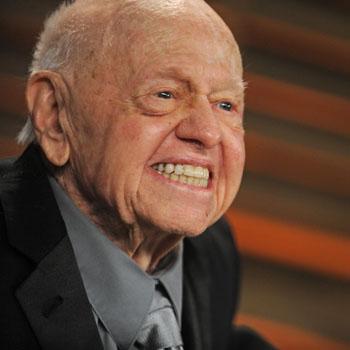 Mickey Rooney was worth a paltry $18,000 at the time of his death, but the legendary star of the silver screen will be worth more dead than he was during his 93-years alive, RadarOnline.com is exclusively reporting.
His stepson, Mark Rooney could, could make millions from possible endorsement deals, a source close to his estate revealed.
Said the source, "Mickey named his stepson, Mark, along with his wife as the sole beneficiaries of his estate.
Article continues below advertisement
"This includes using Mickey's name and/or likeness in the future. In Mickey's will, he specifically stated that no one from his family, including wife Jan, or any of his eight children, could profit off his name. This was left to Mark.
Shocking Stories You Didn't Believe But Turned Out To Be True
"Although Mark isn't currently seeking endorsement deals or possible products to align Mickey's name to at this point, it's something that will definitely be looked into."
On Friday, Rooney's conservator and executor of his estate, Mark Augustine, will square off with Rooney's widow, Jan, in a Los Angeles courtroom in a bid to determine who will decide where the 93-year-old will be buried.
Augustine asked a Los Angeles judge to grant him the legal authority to control and direct the disposition of the 93-year-old star's remains, according to documents obtained by Radar, because of fears estranged wife Jan and her son, Chris Aber, are allegedly attempting to remove Rooney's body from Forest Lawn Memorial Park, against the deceased star's wishes.
Article continues below advertisement
The conservator filed the docs because Forest Lawn Memorial Park has indicated "they will release the body to Jan and Chris absent an immediate court order."
In the will, which was signed on March 11, financially plagued Rooney revealed he had been living apart from Jan for the past year.
You Can Sue For That? The 53 Wackiest Lawsuits
What's more, Rooney wrote: "I have intentionally omitted to provide in this will for the following specifically named or referenced persons: Jan and her descendants (other than Mark Rooney), Christopher Aber, Christina Aber, Mickey Rooney Jr.," and his other children.
Article continues below advertisement
A month before Rooney died, he had signed off on a $2.8 million settlement which stepson, Chris and his wife, Christine, allegedly stole from the Breakfast At Tiffany's star.
According to the settlement, Chris agreed that "judgment shall be entered… in the amount of $2,865,000. Mickey Rooney agrees that for good and valuable consideration, this judgement is unenforceable and uncollectable as against Chris and Christina, and their heirs.
"Mickey Rooney agrees that the judgment to be entered to Paragraph 3 above can only be enforced against a policy of insurance, and not against Chris or Christina or their heirs."
Even though Mickey was broke at the time of his death, "He often told Mark he wished he could have left him with financial stability for everything he had done for him.
"Mark was the only person that Mickey could trust in the final years of his life, and he hoped and wanted Mark to explore the possibility of making money off of his likeness and image after he died. It was the least Mickey could do for Mark," the source added.