Exclusive
Mickey Rooney's Biological Children Contesting His Will -- Claim Step-Son Took Advantage Of Actor's Vulnerable State In Dying Days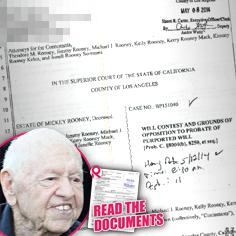 Mickey Rooney's step-son was his primary caregiver during his dying days, leading the legendary actor to name him as the sole heir to his estate — but Rooney's eight biological children have taken legal action to contest the will, RadarOnline.com has exclusively learned.
According to paperwork filed with the Superior Court of the State of California on behalf of Rooney's eight children children on May 8, the kids allege that his step-son, Mark Aber, took advantage of him during his vulnerable dying days.
Article continues below advertisement
Article continues below advertisement
During this close relationship, Rooney's biological children charge Aber was able to control and influence their father to leave his estate to him.
"Respondent and Aber were able to and did control and influence the mind and actions of the Decedent to such an extent that Decedent did whatever Respondent and Aber instructed him to do," the will contest reads.
"Taking advantage of this trust and confidence, Respondent and Aber suggested and dictated the contents of the Document, arranged for the execution of the Document, and caused Decedent to execute the Document."
Article continues below advertisement
"There's little love lost between the kids and Jan, and her son Chris, but they all agree that it shouldn't be going to Mark. That's the last person it should be going to."
You Can Sue For That? The 53 Wackiest Lawsuits
Rooney's children claim in the new court docs that the will was not drafted in "the free and voluntary act" of their father and they're asking for it to be nulled, and to be awarded legal fees.