Casey Kasem's Wife Jean Endangered Husband's Life With Late Night Split From Nursing Home, Medical Officials Tell P.I.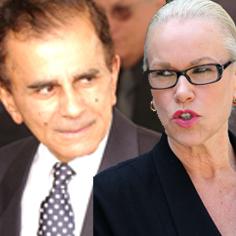 Casey Kasem's wife Jean put the 82-year-old's life in serious danger, medical officials say, when she removed a feeding tube that was surgically placed in the radio pioneer's body as she abruptly removed him from a nursing home May 7.
According to Dr. Paul Leitner, who was overseeing Kasem's care at California's Berkley East Convalescent Hospital, said that Jean "disconnected his G-tube, which provided his only source to nutrition and hydration" after authorities at the facility warned her not to, citing the grave risks involved.
Article continues below advertisement
PHOTOS: Bad Romance! The 20 Most Toxic Hollywood Relationships Ever
"She was informed of the risks of doing so and was told she was placing Mr. Kasem in great bodily harm or possible demise," the doctor told private investigator Logan Clarke, who submitted his work to the Santa Monica Police Dept., according to the NY Daily News, who broke the story. (As we previously reported, the department has an ongoing investigation in response to claims of elder abuse against the 59-year-old former Cheers actress.)
Article continues below advertisement
Staffers at the nursing home, the paper reported, requested Jean Kasem sign forms indicating she was aware she was pulling her husband out of there "against medical advice."
PHOTOS: Who Hates Who In Hollywood? The 26 Dirtiest Celebrity Feuds
Kusiappiah said that she stressed to Jean how her husband needed "round-the-clock monitoring" due to a multitude of medical complications, but the warnings went unheeded.
Instead, according to the investigator Clarke, Jean Kasem illegally rounded up an array of hospital monitors, IVs and feeding tubes to take with them; staffers at the nursing home said they didn't stand in her way because "Mr. Kasem would die" without the use of the devices.
PHOTOS: Casey Kasem Lists His Los Angeles Estate For A Whopping $42 Million
The mercurial actress disregarded the warnings, storming off and shuttling her sick husband into the back of an SUV, where a presumed caretaker was waiting for them, according to Clarke's findings. The radio host was eventually transported to a private home in Washington.
Article continues below advertisement
An insider connected to the Kasem family Friday told the paper that while Kerri would not oppose a police investigation of The Tortellis star, she wants to focus on instilling a warm, caring environment for her father in what's likely his final days, and would welcome Jean the chance to visit her husband.
Casey Kasem remains at St. Anthony Hospital in Gig Harbor, Wash. hospital in critical condition with a bedsore-related infection and the advanced stages of sepsis, according to his doctors.
We'll keep you updated on the latest in this story, right here on Radar.