That Britney's Shameless! Spears Under Fire For Lip Syncing, Lackluster Dancing During Las Vegas Show -- Leaked Complaints Log Reveals Fans Say 'She Looked Bored As Hell!'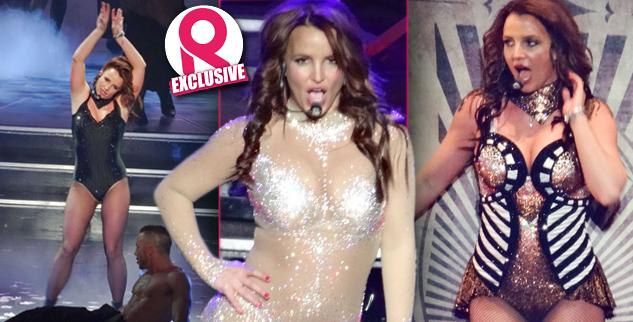 After catching her Las Vegas show, many fans no longer want a piece of Britney Spears.
RadarOnline.com has exclusively obtained the complaints log for Spears' "Piece of Me" performances at Planet Hollywood— and the reviews are scathing!
After watching "the lethargic dancing along with the terrible miming….we decided to leave the venue," states one concertgoer, who says she surprised her young daughter with tickets that sell for up to $525. "The show was shockingly fake and Britney looked bored as hell, to put it bluntly."
Article continues below advertisement
"At the show, Britney Spears was blatantly lip-syncing along to a track," says another (former) fan. "Anyone with ears could tell!"
Though she previously assured fans she was "definitely going to be singing live" during her Vegas residency, the superstar was caught lip syncing twice in February: One night, her vocals suspiciously continued after a mic pack flew off her waistband, and during another performance one week later, Spears' voice rocketed through the arena although her lips didn't move.
"There have been so many complaints over Britney's lip syncing, action had to be taken," a Planet Hollywood insider tells RadarOnline.com. "Now, her microphone is switched on throughout certain songs."
SEE THE COMPLAINTS HERE, HERE AND HERE!
Not only fans are up-in-arms over Spears' behavior: Sources tell RadarOnline.com that the crew is growing increasingly frustrated with the 32-year-old's offstage diva antics.
Article continues below advertisement
"Britney is constantly late, and has to be rushed into hair and makeup with 20 minutes or less to go before show time," the insider says.
But the mother of two— who famously suffered a breakdown amidst reports of drug use before her father, Jamie, won a conservatorship over her affairs in 2008—may be clueless about the negative chatter. As RadarOnline.com previously reported, Jamie and the singer's manager, Larry Rudolph, shielded her from bad reviews when her lackluster album, Britney Jean, dropped in December.
"Britney doesn't even have access to the internet and lives in a bubble," an insider said at the time. "No one wants to upset Britney. If she were to read anything negative, it could send her into a tailspin!"
Despite the controversy, Spears recently signed on to extend her Planet Hollywood residency through 2016.