Is This Thing On? Britney Spears 'Forgets To Sing' Into Mic While Vocal Track Plays On During Vegas Show Plagued By Reports Of Lip Synching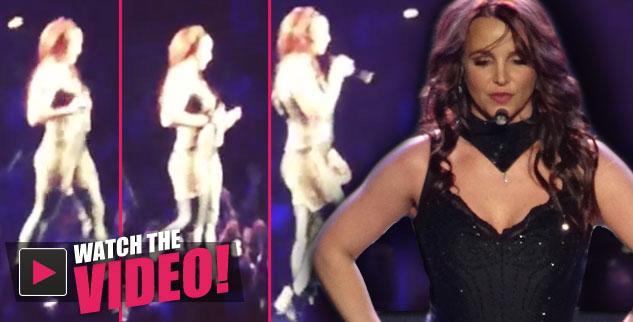 Oops … she did it again! Just one week after fans accused Britney Spears of flagrantly lip synching during her Las Vegas spectacular "Piece of Me," RadarOnline.com has uncovered video of yet another of Spears' apparent miming mishaps. In the clip, recorded recently at Planet Hollywood, Spears "forgets to sing" into her mic while the vocal track for her new single, "Alien," plays on loudly.
Instagram user @samberato posted the clip on February 18, writing "#britney forgets to sing #alien #pieceofme #vegas"
Article continues below advertisement
"Lip synching is difficult!" one user wrote. While others chimed in with similar comments including, "lip synch of life" and "oops y'all forgot to put the mic up!"
As RadarOnline.com reported, Spears faced similar allegations earlier this month when a video emerged that showed her vocal track continuing undisturbed when her mic pack went flying off her body during a dance routine.
At the time, her rep did not respond to RadarOnline.com's request for comment. But months ago, they insisted that her show would be the real thing.
"Britney Spears will be singing live during her show (and) she will not be 'lip-synching,'" her rep said, even though Spears' manager Larry Rudolph was quoted before the show as saying, "There might be some numbers where she's full out dancing with a (vocal) track underneath her, but there won't be any lip-syncing across the board on anything."
Spears has faced such allegations for several years. In 2009, roughly 100 fans walked out of her concert in Perth, Australia, complaining that they believed she was not singing live.
Do you think Spears is lip-synching in her new show? Do you care? Let us know in the comments!