Oops, She Did It Again! Britney Spears Facing New 'Lip Synching' Claims After Microphone Mishap During Vegas Show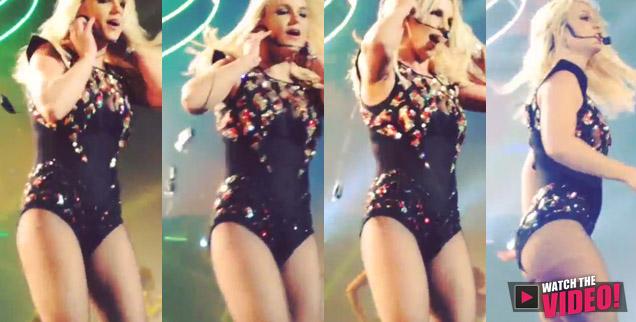 What happens in Vegas hasn't stayed in Vegas for Britney Spears. Only weeks into her new residency at the Planet Hollywood hotel, reports have trickled out suggesting that the singer hasn't been singing live, and now it appears there's video proof!
A new video surfaced on Instagram last week that showed Spears having a tech malfunction when her mic pack flew off of her waistband, pulling her earpiece away from her mouth. The singer kept up her choreography throughout the mishap, and suspiciously, her vocals didn't seem to be affected one bit.
Article continues below advertisement
Watch the video:
Commenters on the Instagram video were quick to all out the pop queen for allegedly lip-synching.
"#Lipsyncforyourlife" @andres_santana_ wrote, while another commented, "Playback or nothing!"
And Twitter users have been quick to bandy about allegations of "lip synching."
Spears has been plagued by accusations of lip synching since even before the show, "Piece of Me," opened, with her reps insisting she would be singing live.
"Britney Spears will be singing live during her show (and) she will not be 'lip-synching,'" her rep said, even though Spears' manager Larry Rudolph was quoted before the show as saying, "There might be some numbers where she's full out dancing with a (vocal) track underneath her, but there won't be any lip-syncing across the board on anything."
Last fall, reports surfaced online that Spears leaned heavily on backing vocalist Myah Marie for her song, "Perfume." A rep for Spears told RadarOnline.com at the time that such reports were ridiculous and that the "Only backing vocals on 'Perfume' are from songwriter Sia. Britney absolutely sings on 'Perfume.'"
And back in 2009, roughly 100 fans walked out of her concert in Perth, Australia, complaining that they believed she was not singing live.
Do you think Spears is lip-synching in her new show? Do you care? Let us know in the comments!