Exclusive
Is Britney Really Singing On Her Album? As Accusations Of Dubbing Fly Online, Spears' Backup Singer Reveals The Shocking Truth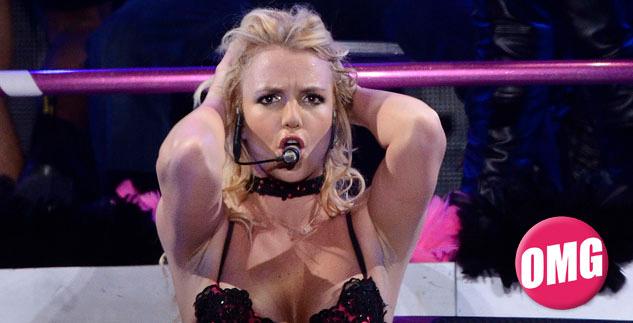 Is it really Britney, b*tch? Long a target of lip-synching rumors, Britney Spears found herself at the center of new dubbing allegations this weekend, when a version of "Passenger," a single from her upcoming album, "Britney Jean," leaked online. Fans immediately took to Twitter to complain that it didn't sound like her voice on the track, instead alleging that Myah Marie, one of her backup singers, was the one doing the heavy lifting vocally.
Article continues below advertisement
The song, "Sounds like Myah Marie more than Britney (in my opinion)," @kaye_ca tweeted.
And @dylancx2 claimed, "You can clearly tell when they mix in Myah Marie's voice in the second verse and Britney doesn't sing the rest of the song."
Dozens of fans agreed, including @SpikyMooDy, who wrote, "At 1:55 it doesn't sound like Britney at all. It's most likely Myah Marie."
Myah Marie, a pop singer who's done backing vocals and demos for Spears, has been accused of going above and beyond the duties of a normal backing vocals singer before.
In February, Star magazine claimed that Myah had done all of the vocals for seven songs on Britney's album, and her own father, Murray Langston told Star, "My daughter sings for Britney Spears. The truth is, Myah can sound just like her. She has a knack."
"Maybe Britney doesn't know whose voice is on her album and it doesn't even interest her," he suggested. "Maybe she just comes in, lays down the track and leaves, and doesn't care."
Article continues below advertisement
Myah Marie denied it at the time, and now, she tells RadarOnline.com exclusively that the new claims are still just as untrue.
"As I told Britney fan site Breatheheavy.com in February," Myah Marie wrote in an email to RadarOnline.com, " … while I am so grateful for the opportunity to provide background vocals for Britney Spears on a small number of her most recent works, I most certainly cannot take credit for her tremendous talent as a singer. She is a veritable 'living legend' with a longstanding reputation for excellence in all aspects of her artistry. She is my idol and I have nothing but the utmost respect and admiration for her. I have no further comment."
Listen to this clip from Myah Marie below and let us know in the comments: Do you think she's been singing for Spear all along? Or is she just a good backup singer?