Exclusive
Britney Spears' Rep Claims She Won't Be Lip-Syncing And Las Vegas Shows 'Virtually Sold Out'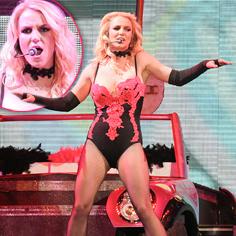 Pop princess Britney Spears and her entourage are adamant that tickets for her Las Vegas stage show are selling through the roof.
Now, the Grammy winner and her conservators -- father Jamie and lawyer Andrew Wallet — are fighting back against those who have suggested sales for the two-year residency are bombing.
"The shows are virtual sell-outs," a Spears representative told RadarOnline.com.
"The truth is that ticket sales have been extraordinary and the first 16 shows are virtual sell-outs, with more than 95% of the tickets being sold."
Article continues below advertisement
Of the 73,600 tickets that went on sale for the first 16 shows at Planet Hollywood, beginning Dec. 27, a total of 70,242 were sold, Spears' representative added.
"Nearly all of the 3,358 remaining tickets for those shows are in the 'nosebleed' section of the theater, so the fact that such tickets might still be available is inconsequential," her rep said.
Spears' conservators were put into place in Feb. 2008 after the "Oops, I Did It Again" singer suffered a psychological breakdown.
They're also on the attack about suggestions she could lip-sync her way through the two-years residency.
When a tipster, who verified their employment at Planet Hollywood, suggested to this website that the show would use 'live' tracks for playback during the concerts, the wrath of Team Spears came out.
"Britney Spears will be singing live during her show (and) she will not be 'lip-synching,'" the rep claimed, even though Spears' manager Larry Rudolph was quoted recently as saying, "There might be some numbers where she's full out dancing with a (vocal) track underneath her, but there won't be any lip-syncing across the board on anything."
Article continues below advertisement
Spears' rep acknowledged that venue staff have a fact sheet to help answer ticket purchasers' questions, but said it is a "completely false tale that the fact sheet supposedly instructs the vendor to lie and give 'twisted' false answers" about whether the pop star will sing live.
"The fact sheet contains straight-forward information about show dates and times, pricing, seat locations and the like," the rep said.
Interesting side note: Despite the box office ticket sales, StubHub, the popular fan-to-fan marketplace, tells RadarOnline.com that Spears isn't as popular as three other divas when it comes to their own ticket sale records.
Spears is "the 4th ranked diva in terms of demand when ticket onsale was announced," the organization said -- with Pink in the number one position, Taylor Swift at number two, Beyonce at three... and then Spears.