Chelsea Handler Slams Britney Spears For Lipsynching: 'How Can You Have A Career When You're Not Doing Anything?'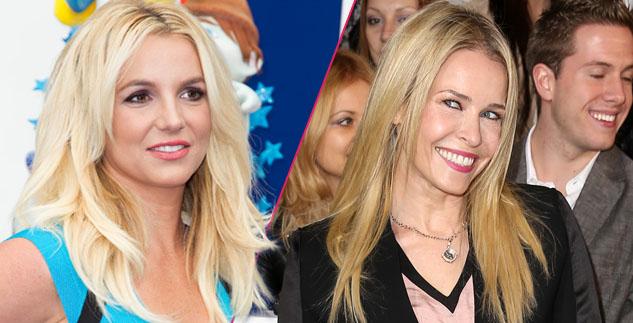 UPDATE 4:21 p.m. PT: Spears' rep tells RadarOnline.com: "There are a lot of inaccuracies here. What Chelsea referred to in an attempted joke is the lyric video that came out before Britney shot the actual Perfume video, which is now common for artists to put out lyric videos - without them in it - hence "lyric" videos. Also, Myah Marie didn't do any background vocals on the song and doesn't have credit. Only backing vocals on Perfume are from Sia. Britney absolutely sings on Perfume."
Article continues below advertisement
Continuing her rant, she complained, "They're not even putting her on camera now," even though the clip was from a lyric video, not the finished product.
"They're just throwing up the words, like here's the song," she said, "and here's whoever's singing for her this time."
"She's not even going to be in the video, probably," Handler sniffed. "I mean, this is so stupid. How can you have a career when your'e not doing anything?"
One of her co-stars chimed in to bash Spears' "raspy" quality on the song, and Handler insisted, "It's obviously a new person singing. It's not her."
Indeed, as RadarOnline.com has reported, many fans believe that the voice on the track belongs to Spears' long-time backup singer, Myah Marie, who has denied doing anything but normal background vocals.
Still, despite her vicious criticism, Handler says she's planning to check out Spears' Vegas show firsthand. "I mean I'll do it on a night that I"m already planning to go there," Handler joked. "I won't go out of my way. But I'll go to that show, watch me!"