Exclusive
Inside Donald Sterling & V. Stiviano's TWISTED Relationship -- Shocking New Recording Reveals Their Explosive Fights Over His Missing Millions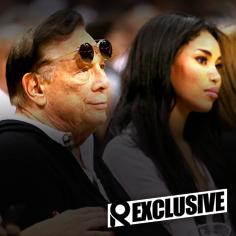 Article continues below advertisement
In the tape, which has been reviewed by RadarOnline.com, Stiviano and Sterling are heard arguing during what was supposed to be a lover's getaway to the Caribbean island of Turks & Caicos.
An angry Sterling can be heard yelling at Stiviano about millions allegedly missing from his bank account, while Stiviano attempts to sweet talk him, insisting anything she was received — including her luxury apartment — was part of her monthly allowance from the Los Angeles Clippers owner.
Refusing to listen to her excuses, he erupts and calls her "a lying pig," insisting he will "destroy her."
Unfortunately for Sterling, the opposite turned out to be true after Stiviano leaked a recorded conversation that caught him in a disturbing racist rant.
This new tape — currently being shopped to media outlest — was recorded with Sterling's permission and cooperation, RadarOnline.com has learned, but Stiviano was unaware she was being taped.
Article continues below advertisement