V Stiviano 'Crying Uncontrollably' Since Watching Watching Donald Sterling's Outrageous Interview With Anderson Cooper, Reveals Lawyer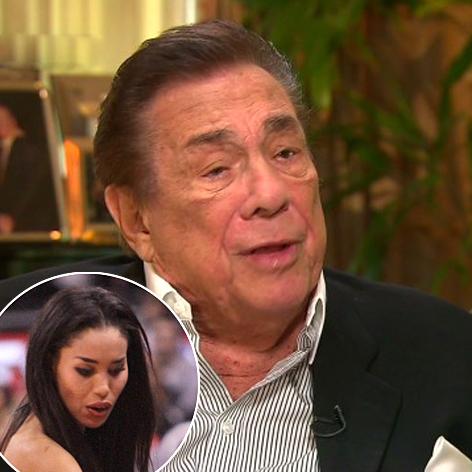 It made most people laugh, but for V Stiviano, disgraced Los Angeles Clippers' owner Donald Sterling's interview with Anderson Cooper was a tear-jerker, RadarOnline.com has learned.
"She was crying uncontrollably this morning when I talked to her because she is so upset," her lawyer, Mac Nehoary, said in an interview on Tuesday.
"V is extremely upset because she truly cares about the Sterling family. Just look at Donald, he is all alone and V feels very sad about that. Donald needs somebody at his side to provide guidance and advice because right now, he has no one."
Article continues below advertisement
As RadarOnline.com previously reported, in the interview — which took place Sunday in Beverly Hills, Calif. — Sterling told the CNN anchor he's "not racist" and apologized over and over.
But the apology then turned into a bizarre attack on Magic Johnson in which he said the legendary baller "should be ashamed" of his AIDS and said "he doesn't do anything" for "the black people."
"He acts so holy," Sterling jabbed. "He made love to every single girl in every city in America and he got AIDS. I didn't criticize him. Is he an example for children?
"I like to help minorities. What has he done? Can you tell me? Big Magic Johnson. What has he done? I think he should be ashamed of himself. What does he do for the black people? He doesn't do anything.
"What does he do? He works with the Dodgers. I spend millions on giving away for minorities. That's one problem I have. Jews, when they get successful, help their people. African Americans…maybe I'll get in trouble again… they don't help anybody."
Article continues below advertisement
Sterling spoke for the first time after explosive audio was leaked late last month in which the 81-year-old told his alleged mistress, V. Stiviano, to delete all photos of African-Americans from her Instagram account, including famous faces like Johnson and LA Dodgers star Matt Kemp.
Days after the audio leaked, NBA Commissioner Adam Silver announced Sterling would be banned for life from the league and would be fined the maximum, $2.5 million, for the racist remarks that went public.
In exclusive audio obtained by RadarOnline.com last week, Sterling excused away his inappropriate choice of words by telling a long-time friend he was just "jealous" and wanted to have sex with Stiviano — an excuse Sterling confirmed in his interview with Cooper.
"She would always use the word 'black', this is black, that's black. So when she said to me, 'I'm going to bring four gorgeous black guys to the game,' I was a little jealous maybe. And I said to her, 'Don't bring them to the game, because of my jealousy.' It was like she was baiting me just to say things," he said.
"I admit I was jealous and it was stupid… An 80-year-old man is kind of foolish and I'm foolish. I thought she really liked me and cared about me."
According to Nehoary, "Donald called V on Sunday night after he had done the interview with Anderson Cooper. It's my understanding that the call went to voicemail and V hasn't returned the call."