Shamed Clippers Owner Donald Sterling Blasts Magic Johnson For Having AIDS, Goes On Bizarre Tirade About African Americans 'Not Helping Their People' & Tells Anderson Cooper 'You're More Racist Than Me!'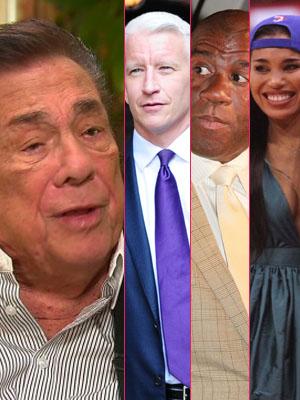 Article continues below advertisement
The interview took place Sunday in Beverly Hills, Calif. and aired Monday evening on Anderson Cooper 360° in what was likely supposed to help repair the embattled NBA owner's reputation, but instead may have made things worse.
Explosive audio was leaked late last month in which Sterling, 80, told his alleged mistress, V. Stiviano, to delete all photos of African-Americans from her Instagram account, including famous faces like Johnson and LA Dodgers star Matt Kemp.
Sterling didn't defend himself immediately — waiting more than two weeks to do an interview — which didn't bode well for the billionaire in the court of public opinion.
"I'm not a racist. I made a terrible, terrible mistake and I'm here with you today to apologize and ask for forgiveness for all of the people that I've hurt," Sterling told Cooper.
"I spoke to a girl that I was fond of and I don't know why…when I listen to that tape, I don't even know how I could say words like that. I love people, I always have. I'm so sorry and I'm so apologetic."
Article continues below advertisement
Sterling even recalled his heartbreak over the public outcry that resulted in his granddaughter not getting candy at school because the young girl was allegedly told, "We don't give candy to racists."
"I never dreamt that this could happen. It's a terrible, terrible nightmare," Sterling said, claiming he never knew Stiviano was recording him, contrary to previous reports — and he claimed he used the term "black people" because that was the term Stiviano had frequently used.
Article continues below advertisement
"She would always use the word 'black', this is black, that's black. So when she said to me, 'I'm going to bring four gorgeous black guys to the game,' I was a little jealous maybe. And I said to her, 'Don't bring them to the game, because of my jealousy.' It was like she was baiting me just to say things," he said.
" I admit I was jealous and it was stupid… An 80-year-old man is kind of foolish and I'm foolish. I thought she really liked me and cared about me."
But halfway through the interview Sterling took an unexpected turn, comparing successful Jewish people with successful African Americans, and in particular calling out Johnson.
"He acts so holy. He made love to every single girl in every city in America and he got AIDS. I didn't criticize him. Is he an example for children?" Sterling said.
"I like to help minorities. What has he done? Can you tell me? Big Magic Johnson. What has he done? I think he should be ashamed of himself. What does he do for the black people? He doesn't do anything.
Article continues below advertisement
"What does he do? He works with the Dodgers. I spend millions on giving away for minorities. That's one problem I have. Jews, when they get successful, help their people. African Americans…maybe I'll get in trouble again…they don't help anybody."
When the scandal first broke, Johnson tweeted: "My wife and I will never go to a Clippers game again as long as Donald Sterling is the owner." And Sterling seemed genuinely surprised by that, and claimed Johnson had called him to help repair the scandal.
Article continues below advertisement
"Has he done everything he can to help minorities, I don't think so," Sterling continued on Johnson.
"I just don't think he is a good example for the children of Los Angeles, that he would go and do what he did and then get AIDS."
Scorned Exes Tell All: Inside Hollywood's Ugliest Splits
It should be noted that Johnson, 54, made a public announcement in 1991 that he'd contracted HIV and he takes a daily combination of drugs to prevent the infection from progressing to AIDS.
"This attack on Magic is crazy. He's messin' with the wrong brother," Spike Lee told Cooper after the interview. "This thing is getting volatile now."