'She Was An Animal … It Took Me An Hour To Get There,' Donald Sterling Says Of Sexual Romp With V. Stiviano, Adding That She Bleaches Her Skin To Look White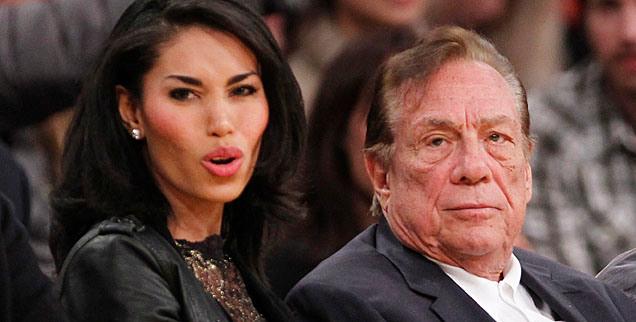 The latest leaked tape of Los Angeles Clippers owner Donald Sterling features the beleaguered octogenarian grousing about the foibles of his one-time girlfriend V. Stiviano, dishing that she's uncomfortable in her own skin — to the point that she bleaches it — and delving into detail about their sexual encounter.
On the tapes, released by Mail Online, Sterling, speaking to a would-be confidante named Maserati, said that Stiviano "was an animal" in between the sheets, and that "Everybody in the world wants to f*** her.
Article continues below advertisement
"I'm paying a very high price for trying to get a girl hot and make it with her," the deposed NBA owner said. "Listen, I'm telling you she was hot. It took me maybe an hour to get there but it was hot.
"So why did I do it? Because I'm 80-years-old; I am an 80-year-old man and tried to make it with a girl. I did it before. It wasn't easy … she has a fabulous body and loves to have sex."
Sterling said that in addition to numerous financial tributes he made to the visor-wearing Stiviano in his attempts to bed her, he made the offensive racial comments heard on the initial leak in hopes of winning her over.
Hear the audio on Radar
On the tape, he called the 31-year-old concubine the "most discriminatory person he's ever met."
He said Stiviano told him she wished she "was white," and "tried so hard to make her skin white" that she actually attempted to bleach it.
"She did it every night, her feet and her hands. She asked me, 'Did I like black skin?' I really didn't think about the color of her skin."
Stiviano, according to Sterling, told him, "God made me black, but I didn't want to be black. All my brothers and sisters are Mexican. Do you know what it is like to wake up every morning and want to be white?"
Article continues below advertisement
He added, "The girl's black, I like her, I'm jealous that she's with other black guys. I want her, so what the hell in private can I tell her, you know, 'I don't want you to be with anybody';' I'm a person, do I have any freedom of speech?"
Sterling said that Stiviano was strategic in her approach to get into his wallet at the same time he was trying to get her into bed.
"I was actually trying to have sex but the girl told me that "before you have sex with me, I want money and presents and all that," he said.
Sterling, much like he did in his Anderson Cooper interview, bemoaned his own fate as "a guy whose just been dumped on.
"I mean I'm down at the bottom of the ocean, not a soul has come to help me up, I'm all by myself. But you know, who would wanna get together with us and hear the real story, the real truth? Maybe a book company?"
Stay with Radar for more on this story.