Exclusive
Time To Play Ball! NBA Investigators Schedule Meeting With Donald Sterling Gal Pal V. Stiviano Over Shelly Sterling Racism Claims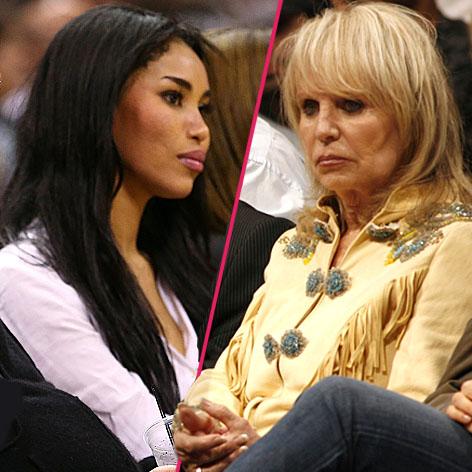 Los Angeles Clippers owner Donald Sterling has been in the hot seat for weeks, and now RadarOnline.com has learned that it's his wife, Shelly's turn. Sources tell Radar exclusively that NBA investigator David Ander will be meeting with Donald's gal pal V. Stiviano on Wednesday in Los Angeles as part of a widening investigation into Shelly's alleged racism and whether she should be allowed to maintain her stake in the team.
Article continues below advertisement
"David Ander will be flying out from New York City, to Los Angeles and meeting with V Stiviano on Wednesday to discuss Shelly Sterling," an insider told Radar. "The NBA has opened a separate investigation into Shelly Sterling since she has publicly said she wants to maintain 50% ownership of the Los Angeles Clippers."
As Radar has reported league commissioner Adam Silver launched an investigation into Clippers co-owner, Shelly, shortly after issuing Donald's lifetime ban.
Now, sources revealed, the attorney spearheading the inquiry has asked Donald's alleged mistress, Stiviano, for the sit-down meeting in the hopes she will play him the controversial audiotapes she has of her former boss' wife.
A source previously told Radar that Stiviano has audio and videotapes of Shelly that will "definitely raise eyebrows."
Shelly previously said she would "definitely press charges" if it turned out Stiviano had illicitly taped those conversations.
Article continues below advertisement
Now, sources close to the Clippers co-owner insist that the NBA investigation is simply a formality. "The league has told her people there is no formal investigation into her as an individual concerning the Los Angeles Clippers," an insider insisted. "Anything that David Ander is conducting at this point, is follow-up to the Donald Sterling investigation. If Shelly comes up in discussion with Stiviano, that is secondary, but she isn't the focus."
Request for comment from Ander, Shelly, and Stiviano weren't immediately returned.