Exclusive
A Double-Wide & Secret Suicide: Chrisley Knows Best Star's Tragic Past REVEALED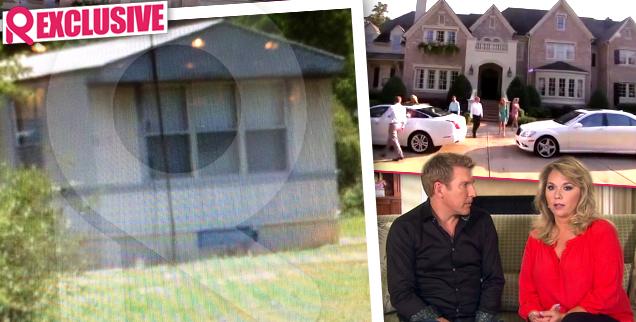 Chrisley Knows Best star Julie Chrisley likes to portray herself as a pageant queen and preacher's daughter, but RadarOnline.com has exclusively learned that her true past is much grittier. Before moving into a (heavily financed) McMansion, Julie grew up in a double-wide trailer, suffered through the tragic suicide of her younger brother, and even had an out-of-wedlock pregnancy!
"Julie is hardly the southern belle she claims to be," an insider tells RadarOnline.com. "Just like everything about the Chrisleys, she's totally fake!"
Article continues below advertisement
Born to mechanic Harvey Hughes and bank teller Pam in Winchester, South Carolina, in January 1973, Julie grew up living the simple life in a double-wide trailer on a dirt road called Charis Dr., below.
Julie has bragged about being crowned "Miss Carolina" as a teen, but according to Miss South Carolina and Miss North Carolina records viewed by RadarOnline.com, she never won either pageant, and there does not appear to be any pageant by that name. Says the source, "It's total BS."
MORE ON:
Chrisley Knows Best
In the early 90s, she dated the man who would change her destiny, future husband Michael Todd Chrisley, and became pregnant by him that fall. The couple did not marry until May 25, 1996, when she was nine months pregnant with their son, Chase. He was born exactly one week later. Son Kyle had already been born in 1991.
As she and Todd began to live the lavish life that would lead them to bankruptcy court, she was rocked by family tragedy on May 6, 2002, when her younger brother Harvey "Trey" Cecil Hunter Hughes committed suicide at the young age of 25.
Article continues below advertisement
"He shot himself behind the double wide," an insider tells RadarOnline.com. "It was really sudden and tragic. He left behind a son."
That experience led Julie's mechanic father to pursue a new career as a Baptist minister at a local church, while her mother continued working at the bank that would eventually give the Chrisley family a $10 million loan, landing them in hot water with the FDIC, as RadarOnline.com reported.
"Julie claims she has family money but all you have to do is look at that trailer — which her parents still own! — to know the truth about where she came from," the source says.
And as for where she is going, the couple's bankruptcy case continues in Atlanta, with a bank recently moving to seize an Alpharetta home the couple own, where his mother, Faye, had been living. As for reports their own Roswell home is at risk, the insider says, "That's inaccurate."