Exclusive
Chrisley & Clyde? Reality TV Star & Wife Conspired To Hide Cash From Creditors In 'Fraudulent Transfers,' Court Trustee Claims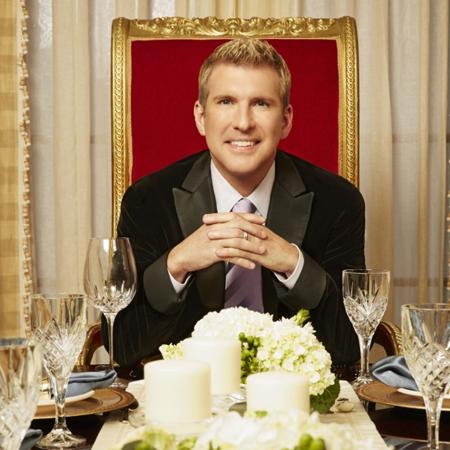 Chrisley Knows Best star Todd Chrisley insists he rules his roost with an iron fist, but when it comes to hiding his money from creditors, the trustee in his bankruptcy case claims -- it's a team effort! RadarOnline.com has exclusively learned that bankruptcy trustee Jason Pettie recently filed a complaint against Chrisley's wife, Julie, alleging that she accepted "fraudulent transfers" from her husband meant to hide the full extent of their assets from the courts!
Article continues below advertisement
According to court papers obtained by RadarOnline.com, Pettie filed a complaint against Julie in February that claimed she was the "recipient or benefactor of certain transfers from" her husband.
In late 2011, for example, the documents claim that the legally troubled reality star transferred 60% of his 70% ownership of his business, Chrisley Asset Management, to his wife. Chrisley Asset Management had $5,448,743 in gross receipts that year.
MORE ON:
Chrisley Knows Best
Article continues below advertisement
In addition, Pettie claims, shortly before Todd filed for bankruptcy he also deeded his wife his interest in an Atlanta condo.When he sold the property,l the funds were used to pay off an $86,003.28 tax lien owed by Julie. One half of the funds "should be turned over to the Trustee," the documents claim.
For these reasons, Pettie is accusing Julie of "fraudulent transfers" that were made "with the actual intent to hinder, delay and defraud his creditors."
As such, on March 27 Pettie filed a separate motion advising the court of his intent to subpoena Julie's emails from AOL. As RadarOnline.com has reported, he was already granted the ability to serve such an order to AOL and Google regarding Todd's email correspondence.
Pettie points out that despite the Chrisleys' claim of financial destitution -- and the fact that neither has worked since 2012 -- they "continue to live in lavish residences, drive expensive vehicles, and travel extensively." And Pettie intends to get to the bottom of their real financial state.