Exclusive
Chrisley Knows Best Star Begs Bankruptcy Court -- Let Me Keep My Couture!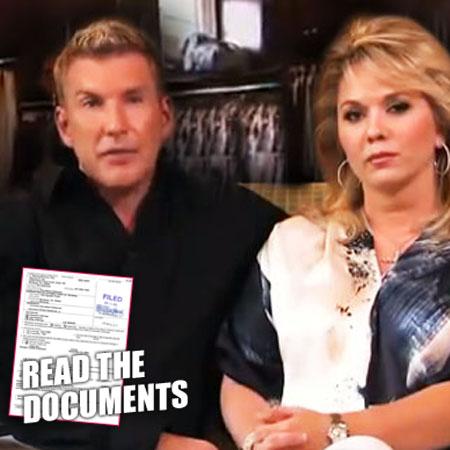 Just days before Chrisley Knows Best star Todd Chrisley will welcome America into his home -- and closets full of designer clothes -- the USA Network reality star to-be is scrambling in court to prevent a bankruptcy trustee from seizing his luxurious possessions!
As RadarOnline.com has reported, the trustee in Chrisley's ongoing bankruptcy case recently filed a motion to seize his clothes, after the trustee saw Chrisley -- who had told creditors he only owned about $650 of wardrobe -- bragging about his designer collection on TV. In court documents filed on March 5, Chrisley is fighting back.
Article continues below advertisement
"There is a very limited market for used men's clothing, and accordingly the Debtor stands by his valuation of his wearing apparel," the documents, obtained by RadarOnline.com, insist. Chrisley said on the show that he spends hundreds of thousands a year shopping, and receipts from Saks Fifth Avenue and Louis Vuitton revealed his high-end retail habits.
READ: Todd Chrisley Bankruptcy Court Documents
The Trustee had also noted Chrisley's possession of a set of Hartmann luggage, valued over $10,000, but Chrisley's new filing insists it "was purchased over ten years ago and does not likely have significant value, and he believes it is the property of his wife."
Still, if the court insists on making him sell the clothes to pay off his creditors -- to whom he owes $45 million -- Chrisley wants to ensure that he is the buyer.
The court documents claim he "would agree to having the wearing apparel he owned on the date of filing appraised by a mutually agreed upon appraiser. Should the appraiser value his clothes in excess" of the $650 he claimed, Chrisley says he "will buy back his personal property for its appraised value."
Article continues below advertisement
In fact, he already did just that for some other items: On December 18, 2012, the court agreed he could buy back his platinum wedding band for $1,300, and his 2010 Landrover Range Rover, which is featured on the show, for $5,557.
As RadarOnline.com has reported, the high-living wannabe reality star filed for bankruptcy in August 2012, claiming an incredible $49.4 million in debt as compared to $4.2 million in assets. Of that debt, $12 million was in mortgages, $595,227.98 was in unpaid taxes, and he even claimed that he owed his wife, Julie -- to whom he is happily married -- $4.4 million. His court filing said he had just $55 in a checking account and $100 in cash.
The court's trustee recently slammed the couple for continuing to live the high life post-filing, writing in a court document, "Neither has been employed since 2012. However, they continue to live in lavish residences, drive expensive vehicles, and travel extensively."
Still, he brags on the show about spending "$300,000 or more, just on clothing."
To see Chrisley's spending first-hand, watch Chrisley Knows Best on March 11 on USA Network. For more on his myriad financial and legal issues, stay tuned to RadarOnline.com!