Exclusive
Busted! 'Chrisley Knows Best' Stars Could Be Ordered To Turn Over Their Clothes In Bankruptcy Proceedings After Bragging About Shopping Sprees On The Show -- See The Receipts!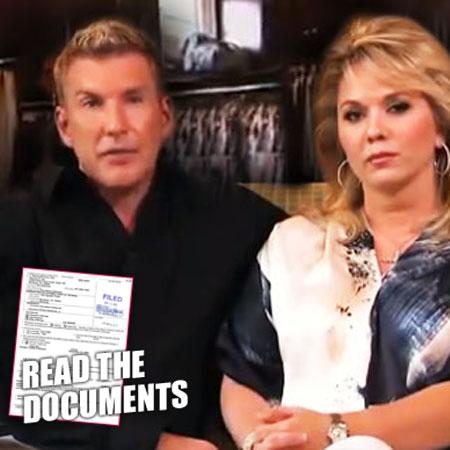 For many reality stars, fame has helped to grease an eventual slide into financial and legal ruin. But the stars of USA Network's upcoming reality show Chrisley Knows Best have already been bogged down in bankruptcy court for years before their show's premiere date! RadarOnline.com has exclusively learned that despite their luxe image in previews for the show, the Chrisleys are currently battling out a bankruptcy in Georgia, and things are so dire that the Trustee on the case has asked a judge to order them to hand over their designer clothes after bragging about them while filming the show.
Article continues below advertisement
Michael "Todd" Chrisley filed for bankruptcy in Florida on August 31, 2012, according to court documents obtained by RadarOnline.com. On March 21, 2013, it was transferred to Georgia.
In Chrisley's Debtor's Schedule, or list of his assets, he claimed to have clothing worth only $650, but the court's Trustee determined that the realty TV wannabe had "grossly misrepresented his clothing and personal effects" -- after they saw him bragging on TV!
"In a promo for the Debtor's upcoming USA Network reality TV show," the Trustee's motion to compel for turnover claims, "the Debtor stated, 'In a year, we sometimes spend $300,000 or more, just on clothing.'"
After seeing that clip, the court Trustee approached American Express, and found that Chrisley "frequently made high-end clothing and accessory purchases" while he was racking up a $20,755.41 balance on his Amex card.
Article continues below advertisement
The Trustee also approached Saks Fifth Avenue and Louis Vuitton about Chrisley's spending habits, and discovered that he spent $5,677.80 at LV in one year, and more than $15,000 at Saks since 2009.
In addition, the court documents claim, the "Trustee inspected Chrisley's home and observed a large collection of designer clothing, much of which appears to be lightly worn," as well as "a full set of Hartmann luggage, which would have a retail value of over $3,500."
All told, Chrisley "has concealed his property or grossly misrepresented its value" in the bankruptcy proceedings, according to the motion, and the bankruptcy Trustee wants the court to force him to turn over his designer clothing collection -- especially before he undertakes a planned move to California.
This isn't the first time that Chrisley's been in court. As RadarOnline.com has reported, several of his employees sued him in 2009, complaining that he fostered a "vulgar" work environment and fired them because they dared to complain about the sxually charged atmosphere at work.
Article continues below advertisement
For example, records in the case claimed, "When a new employee at Chrisley Asset Management was being introduced to other employees, Mr. Chrisley stated that she 'prostitutes on the weekends.' Mr. Chrisley also asked the new employee in front of other Chrisley Asset Management employees, 'Are your tits real?' Unfortunately the new employee is a breast cancer survivor and had undergone a double mastectomy. Plaintiffs were appalled and disgusted by Mr. Chrisley's offensive and demeaning sexual comments."
According to court records, the case was later dismissed when both parties agreed upon a settlement.
Chrisley Knows Best premieres March 11 on USA. Watch Chrisley brag about his big bucks life while he secretly battles bankruptcy:
youtube
For more on the the family's legal and financial issues, stay tuned to RadarOnline.com!