Exclusive
Does Chrisley Know Gay Sex Best? Reality TV Star Accused Of Asking Male Employee To Engage In Sexual Act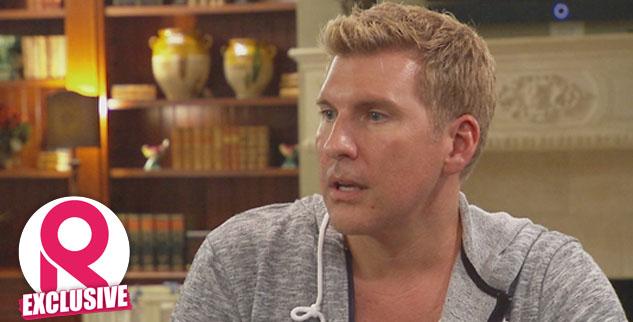 "I'd rather be a gay pop icon than a redneck," flamboyant, fashion-conscious Chrisley Knows Best star Todd Chrisley recently said. But despite his love for couture and penchant for Southern sassiness, the reality TV star says he's happily married to wife Julie and insists, "There's no coming out" in his future. But was that always the case?
RadarOnline.com has exclusively learned that just four years ago, Chrisley was sued by a male employee who claimed the USA Network star had invited him to perform a sexual act!
Article continues below advertisement
According to court documents obtained by RadarOnline.com, Chrisley was sued by three former employees of his company, Chrisley Asset Management, in January 2010. The group alleged that he regularly "commented on the size of his penis, invited male employees to 'jerk off' with him in the restroom, inappropriately touched employees, and routinely made sexual gestures toward his subordinates."
As RadarOnline.com has reported, Chrisley was first sued for sexual harassment by a group of female employees in 2009. That case was later dismissed. But as part of the legal proceedings, CAM employees Christy Kicklighter, John Hudlow and Jillian Hayes were questioned and age "specific examples" confirming "at least parts" of the conduct alleged by the plaintiffs in the 2009 case.
"Immediately after the sexual harassment case was settled," the 2010 documents allege, Chrisley and his company "retaliated against Ms. Hayes, Mr. Hudlow, and Ms. Kicklighter by firing them as a direct result of the information they provided in the investigation of Case 1." What's more, they claim, they were fired just before Christmas in the midst of a recession.
READ The X-Rated Sexual Harassment Complaint From MALE Employee!
Article continues below advertisement
What kinds of claims had they shared with attorneys? According to the documents, the Plaintiffs claimed Chrisley once "asked Hudlow, in front of other employees, to join him and another male co-worker in the restroom to 'jerk off.'"
He also routinely called female employees "sluts" and "prostitutes," according to the documents, and asked one female employee if here "tits were real." She happened to be a breast cancer survivor who had had a double mastectomy.
In short, the documents claim, "Chrisley's actions heavily influenced the work environment such as employees were encouraged to engage in similar sexual remarks and lewd acts in the office. Employees, including the plaintiffs, were made to feel afraid to complain about the offensive sexual behavior for fear they would lose their jobs in those tough economic times."
When they were later fired, the documents allege, it became clear that their "fears were justified."
As with the first sexual harassment case, this second suit was settled in March 2010.
For more on Chrisley's legal and financial issues, stay tuned to RadarOnline.com!