Exclusive
Mother Knows Best? Kyle Chrisley's Secret Baby Mama REVEALED!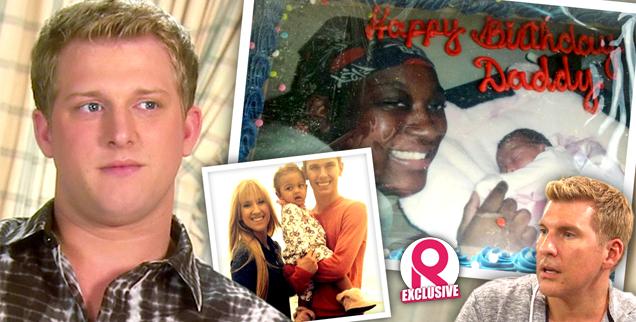 Chrisley Knows Best star Kyle Chrisley has bragged about having "the most beautiful daughter in the world," Chloe, whose first birthday party will be celebrated on the show next Tuesday night. But the little girl's mother likely won't be shown during the episode because her identity has been a closely guarded secret — until now. RadarOnline.com can exclusively reveal that Kyle's baby mama is Angela Victoria Johnson of Iva, South Carolina.
Article continues below advertisement
According to court documents obtained by RadarOnline.com, Kyle, his father, Todd, and mother, Julie, all filed a legitimation suit against Johnson on October 7, 2013, just over nine months after the child's birth. In Georgia, a legitimation suit is a way for a father to establish his parentage of a , which is a first step towards assigning child support duties and visitation rights for the dad.
MORE ON:
Celebrity Justice
Article continues below advertisement
Then, on February 5 of this year, they established a child support plan and permanent parenting plan. A judge also signed off on Kyle's parentage legitimation on that date.
Just a few weeks later, baby Chloe would be thrust into the spotlight as Chrisley Knows Best premiered on March 11.
Johnson bragged about her daughter's growing fame in a public Facebook post on April 11, writing "My baby is so small here … I love it, famous already!" as the caption to a clip of Chloe from Chrisley Knows Best. When friends chimed in asking if it was her baby, she wrote, "Yes, that's my baby girl and I love that show too!"
Johnson's Facebook page also includes personal photos of the Chrisley family home in Georgia, which she called a "castle."
Her profile is wiped of all traces of Kyle, but there are several posts referencing bad ex-boyfriends and relationship issues.
After filming the reality TV show with Kyle, Chloe returned to her mom on April 9, according to a post on Johnson's Facebook page. The show has just been renewed for a second season, but there's no word yet whether Chloe — or Johnson — will appear.
PHOTOS: Top Celebrity Sex Scandals
Do you think Johnson and Kyle seem like a good match? Should she be featured on the show? Let us know in the comments!