Exclusive
Chrisley Knows Arrest! Reality Star's Secret Assault Charges REVEALED — PLUS Why His Own Lawyer Sued To Get Paid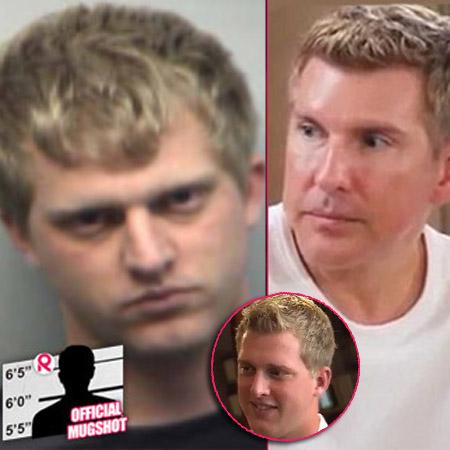 Apparently a two-month stay in rehab wasn't enough for Kyle Chrisley to overcome his demons. More than two years after receiving treatment at a drug, alcohol and dual-diagnosis center, RadarOnline.com has exclusively learned that the Chrisley Knows Best star was arrested for allegedly beating up a woman.
According to Fulton County arrest records obtained by RadarOnline.com, Chrisley was arrested on April 17, 2013, and charged with misdemeanor simple battery, or intentionally making harmful physical contact, against an African-American woman named Tracy Gordon. Further details of the incident were sealed by the court.
Article continues below advertisement
When reached by RadarOnline.com for comment on the case, Gordon said, "I have no idea what you're talking about," before hanging up the phone. Gordon also refused to answer questions regarding her relationship with Chrisley, and whether she is the mother of his daughter.
But even though Chrisley got off without serving time, he wasn't exactly grateful to his attorney for the legal coup. RadarOnline.com has exclusively learned that his attorney in the case, Drew Findling, has taken him to court over his unpaid bill!
Article continues below advertisement
According to a complaint filed in Georgia on March 14, 2014, Findling met with Chrisley "on or about November 7, 2013 … for the purpose of providing legal representation." This was one day before the first hearing in Gordon's warrant application.
Findling claims Kyle's dad, Todd Chrisley, hired him around November 20, 2013, and "was to pay Findling a retainer for legal fees in the amount of $12,500 for the representation of his son."
Findling "made numerous court appearances on his behalf," the court documents claim, but "despite several requests for payment, Chrisley has failed and refused to pay Findling the agreed-upon retainer for the representation of his son" and "remains indebted" to him.
Findling "has made demand upon Chrisley for payment of this outstanding amount, but to no avail," the documents continue.
Worse, Findling claims, the reality star "has acted in bad faith, has been stubbornly litigious, and has caused the Plaintiff unnecessary trouble and expense necessitating the filing of this lawsuit."