Exclusive
They Tried To Make Him Pay For Rehab… He Said, 'No, No No!' Star Of 'Chrisley Knows Best' Accused Of Stiffing Treatment Center Where Son Kyle Received Treatment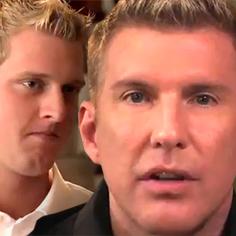 Todd Chrisley of USA Network's flagship reality show Chrisley Knows Best claims his parenting skills are without peer, but that doesn't mean his children haven't faced serious challenges. RadarOnline.com has exclusively learned that in 2011, Todd secretly checked his teen son Kyle into rehab — and then later refused to pay the bill!
Todd mentioned on a recent episode of the show that he'd paid "millions" for Kyle to go to treatment. And according to court documents obtained by Radar, Todd checked his son, Kyle into the Creative Care treatment center in Malibu to receive "rehabilitation treatment services" on January 10, 2011, when Kyle was 19. Creative Care is a residential treatment center that uses "an individualized and compassionate approach to … free the body, mind and spirit from alcohol, drugs and behavioral dependencies," according to CreativeCareInc.com.
Article continues below advertisement
Chrisley paid $18,000 for the first month of treatment, the documents claim, and also signed a contract turning his son over to the care of the treatment center.
READ The Lawsuit From The Rehab
According to the contract Todd had legal guardianship over 19-year-old Kyle. "Chrisley has been awarded this guardianship by law," the contract, obtained by Radar, notes.
"Kyle can not make any medical decisions or any other decisions that an adult is granted by law," the contract states. "It is understood that Kyle cannot walk away from the program."
For the first month, Kyle underwent treatment and random drug testing at the center, according to the court documents. He "began his second month of treatment on February 9, 2011, and remained in treatment until March 6, 2011, when Todd removed him from the program."
READ A Judge's Order To AOL & Google — Turn Over Chrisley's Emails!
Todd "gave Creative Care a check for partial payment of the second month of treatment in the amount of $11,643.96" on March 2, 2011, the documents claim, but after pulling Kyle out on March 6, the documents claim, he "stopped payment on the check."
MORE ON:
Chrisley Knows Best
Article continues below advertisement
As such, Creative Care sued Chrisley for the $24,000 they said he owed them for Kyle's second month of treatment, plus court costs, attorney's fees, post-judgment interest and any relief the court deemed "just and proper" in a complaint filed on April 5, 2011.
Chrisley filed for bankruptcy soon after, and the outcome of this particular case is still unclear, as his bankruptcy trustee continues to untangle the complicated state of his finances.
As viewers of the show have seen, however, Chrisley still forces Kyle to undergo random drug tests.