Now Who? David Letterman's Departure Spurs Furious Speculation Who Will Be His Heir -- Or Heiress -- Apparent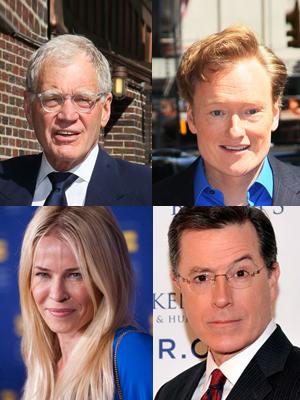 Within moments of David Letterman's retirement announcement Thursday, media pundits and industry immediately began looking forward to who will take over his chair when he vacates it a year from now.
With that in mind, RadarOnline.com has a closer look at some of the names most frequently bandied about in contention for the honors.
The E! late night personality, 39, has well established herself as a player in late night with her successful Chelsea Lately franchise the past seven years. The comic's prescient timing -- she announced this week she was leaving the cable network upon completion of her contract in December -- have fueled the fires that the hip Handler is ready for the network vehicle. Also working in Handler's favor are her deep ties to Tinseltown, as she keeps ultra-exclusive company with friends like Jennifer Aniston, Gwyneth Paltrow and Reese Witherspoon. The New Jersey native's manager Irving Azoff played his cards close to the vest about the comic's post-E! plans. He said in an interview with The Hollywood Reporter this week, "Chelsea intends to leave when her contract expires … we have at least seven suitors and many ideas."
Article continues below advertisement
Assuming his recent #CancelColbert headache turns out to be a bump in the road -- and all indicators seem like the controversy's died down -- The Colbert Report's Stephen Colbert could make for a logical heir apparent for the Indiana legend, serving up the same type of intellectually-geared snark Letterman's viewers have feasted on for decades. Deadline Hollywood boss Nikki Finke said insiders have said Colbert, 49, is "the only one on the air currently that CBS is considering."
While technically in the catbird seat, having the slot directly behind the outgoing Letterman, The Late Late Show host, 51, is likely a dark horse in the race, as his ratings have been getting trounced by incoming rival Seth Meyers.
The Late Show with David Letterman airs at 11:35/10:35c weeknights on CBS.