Rehab! Booze! Stealing! Lindsay Lohan Weeps During No-Holds-Barred Interview With David Letterman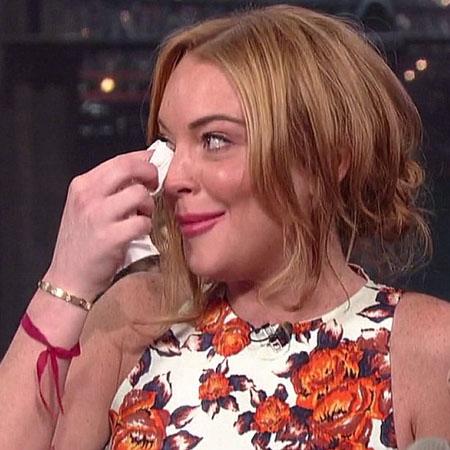 Lindsay Lohan shed a few tears after she was absolutely grilled by David Letterman on Tuesday night's edition of the Late Show, and we've got a recap for you right here on RadarOnline.com.
Letterman was aggressive in peppering the tabloid princess with questions about her fast-paced lifestyle, asking her, "Now, aren't you supposed to be in rehab now?"
"Do you not watch anything that goes on?" the hoarse-voiced Mean Girls star told the talk show host, explaining she begins a three-month program beginning May 2.
Article continues below advertisement
"How many times have you been in rehab?" Letterman asked LiLo, who answered, "Several."
Letterman sprung right back into the inquisition, asking her, "And how will this time be different? What are they rehabbing, first of all? What is on their list? What are they going to work on when you walk through the door?"
That's when LiLo, 26, looked like she'd rather be anywhere else on earth, pointing out to Letterman that the tense topics had not been discussed "in the pre-interview.
"I think, to be honest, I'm the happiest when I'm working and the healthiest, and I think this an opportunity for me to, you know, focus on what I love in life," she said. "And I don't think it's a bad thing -- I think it's a blessing, and not a curse."
When he asked her, point blank, if she has addiction issues, she used a little humor to change the subject, telling Letterman, "Now you sound like Dr. Phil!"
Article continues below advertisement
Lohan -- who kept looking off camera -- then swiped the list of questions he had on his desk and reading them herself, with the next one being, "Why are you always in trouble?"
She answered with mixed signals, claiming that while she's "a target" who was "going through a phase," she takes "full responsibility" for her ongoing problems.
"You grow up, and you mature, and I've said that a million times, I know that -- but what else am I supposed to say when it's a process of life and I'm not trying to deny any situation I'm put in?" Lohan said.
She said that she's looking forward to the alone time and introspection that her sixth rehab stint will bring, and vowed that in her next appearance with Letterman, her troubles will be a thing of the past.
When Lohan welled up with tears after the emotionally-draining chat, Letterman gave her a tissue to wipe her eyes with.
"Oh thanks, that makes it obvious and all … I'm flustered right now because you made me tear up because you're very sweet," she told Letterman, who gave her credit for facing the tough interview.
Watch the video on RadarOnline.com
"We'd never thought we see you again honestly because of the jokes and stuff, but yet you have enough spine, enough sense of yourself, enough poise to come out here and talk to me," he told her.