Lindsay Lohan And Her Sugar Daddies: Who Are The Three Super Rich Men Allegedly Keeping Her Afloat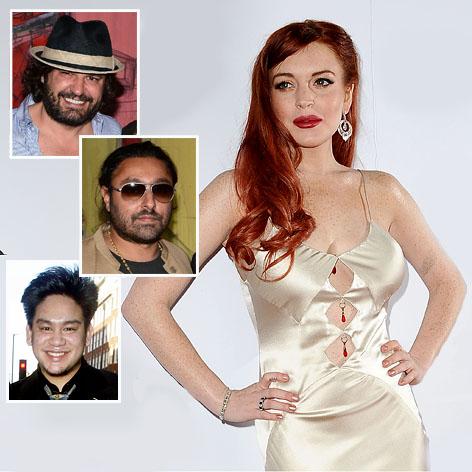 She owes $300,000 in back taxes, has mounting legal costs and her family's $1.3 million Long Island mansion faces foreclosure.
But cash-strapped Lindsay Lohan has found a way to dig herself out of her financial hole, according to reports.
The broke actress is reportedly juggling three super rich sugar daddies in a desperate bid to keep herself afloat.
The 26-year-old has draped herself on the arms of three wealthy suitors in the past year – billionaire playboy Prince Haji Abdul Azim, hotelier Vikram Chatwal and Spanish-American artist Domingo Zapata.
Article continues below advertisement
According to multiple reports, Azim, 30, paid Lindsay $100,000 to attend his lavish New Year's party in London.
The third in line to the throne of Brunei reportedly flew her and her mom Dina out to the UK and put them up in the posh Dorchester Hotel.
According to a source the Mean Girls actress was paid to be the prince's "arm candy." A guest tells UK newspaper the Daily Star Sunday: "She has him totally under her spell."
Hotel mogul Chatwal, 41, is also reported to be "completely smitten" with the troubled star.
As RadarOnline.com previously reported, the couple was spotted getting cozy at a New York event last summer.
Meanwhile Zapata, 38, lets her stay at the posh suites he keeps at New York's Bowery Hotel and the Chateau Marmont in Los Angeles.
It was his Porsche that Lindsay was driving when she allegedly hit a pedestrian in Manhattan last September.
The troubled starlet, who is facing an upcoming probation violation hearing, has reportedly told pals that if she's found guilty. she's hoping one or more of her wealthy friends will help with fines that might keep her out of jail.