Don't Take My Picture! Lindsay Lohan Hides On The Floor Under DJ Table!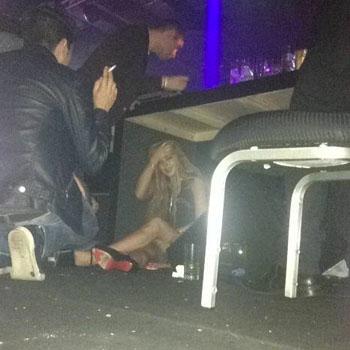 Lindsay Lohan does not want her picture taken, so she's going to hide under the table to make sure that doesn't happen!
LiLo is heading to rehab for 90 days but she's living it up before then partying in nightclub in San Paulo, where she actually hid under the DJ table at the and RadarOnline.com has the photo of her bizarre action.
Lindsay, 26, is sitting on the dirty club floor under the DJ booth with her legs crossed in a short dress and holding her messy hair away from her face.
Article continues below advertisement
The Twitter poster Orgastic_desire wrote in Portuguese that Lindsay didn't want her picture taken so that's why she was hiding under the table and followed up with: "Nobodyknew she wasdown there. Therewas harassment! She hid because they werenoton topof it."
Despite her massive financial troubles, Lindsay is wearing an expensive tell-tale pair of Christian Louboutin heels as she planted herself on the ground.