What A Boob! Lindsay Lohan Barely Avoids Wardrobe Malfunction During Another Day Of Partying In Brazil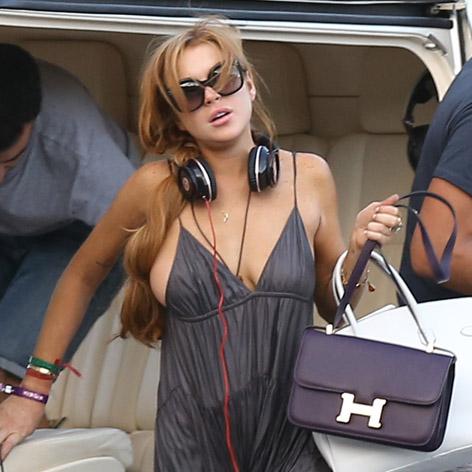 Another day, another party for Lindsay Lohan on her promotional trip to Brazil.
On Saturday, the Mean Girls star was transported to the coastal city of Florianopolis for another appearance, and as she stepped off the helicopter wearing a flowing maxi dress, the halter top shifted, coming close to revealing her best assets.
Lohan was then on to a nightclub where she took a turn at the DJ table, danced, and was photographed drinking a bottle of water while sitting at a table with nothing but a variety of bottled water for her entourage.
Article continues below advertisement
LiLo is in Brazil for the launch of John John Denim's launch of its flagship store in Sao Paulo -- a promotional appearance for which she is reportedly being paid $100,000.
The fee doesn't matter much to her dad, Michael Lohan who told RadarOnline.com he was outraged at the people he accused of enabling her behavior.
Lohan still has a month to go before she's required to be enrolled in her court-ordered rehab. Plenty of time to keep the party going!