Exclusive
Truce! Rivals Jimmy Fallon & Jimmy Kimmel Make 'Pinky Promise' To Play Nice During Late-Night Battle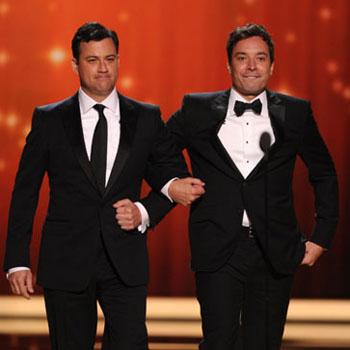 The talk show hosts Jimmy Fallon and Jimmy Kimmel have agreed to a friendship pact when they go head-to-head against each other this spring, a source reveals to RadarOnline.com.
As we've previously reported, Fallon will take over NBC's The Tonight Show from Jay Leno on February 24, 2014, with the show airing from New York. His chief rival, among others, will be ABC's Jimmy Kimmel Live, which films in Hollywood and airs directly opposite The Tonight Show at 11:35 p.m.
Article continues below advertisement
However, the two are determined not to have a late night war, according to a production insider.
"They have made a pinky promise to go easy on each other and be friends and even appear on each other's show when they're in each other's respective cities," the television spy witness said.
The comedians want no part of the feuding that has afflicted Leno and his rivals David Letterman and Conan O'Brien.
Fallon and Kimmel "are both embarrassed by the conduct of the older generation and all the in-fighting between Letterman, Leno and Conan," according to our source.
"The two Jimmys have promised to make this work and be civil to one another, even if nobody around them believes that's possible."
Indeed, few of the NBC and ABC execs who are aware of the pact believe it can last past the first ratings period, the source says.