Exclusive
Bryan Singer & Other Hollywood Sex Ring Defendants Exposed As Investors In Shady Company Run By Pedophile — READ The Shocking Proof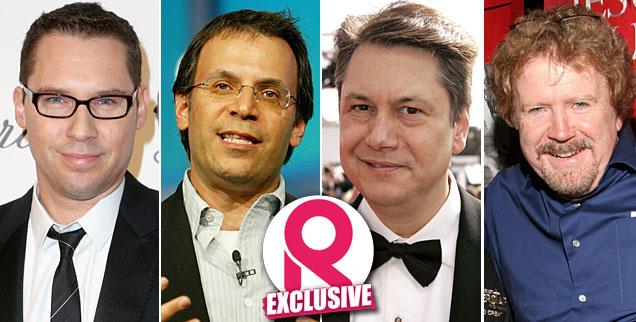 Article continues below advertisement
According to SEC filings obtained by RadarOnline.com, Singer, Goddard, Ancier and Neuman were all investors in the controversial Digital Entertainment Network, run by Marc Collins-Rector, a registered sex offender who was convicted of transporting a minor with intent to engage in sexual activities in 2004.
The document listing the men was filed in the spring of 2000 in preparation for a $50 million stock offering scheduled for later that year. The amount invested by Goddard and Ancier is unknown, but according to other records, Neuman invested $617,110 and Singer's contribution was $30,000 of a planned $50,000 investment.
Article continues below advertisement
In 1999, one of Collins-Rector's former employees, Jacob Walker, filed suit against Collins-Rector claiming that he had subjected him to sexual abuse after hiring him as a "customer service representative" at a predecessor to DEN, after hiring him at the age of 13. The case was settled and dismissed in October 1999.
Less than a year later, a group of DEN employees including Egan, Alex Burton, and Mark Ryan all filed suit against Collins-Rector, DEN and Brock Pierce, alleging that "during the course of plaintiffs' employment at DEN… defendants sexually and physically abused plaintiffs, forced plaintiffs through coercion or subversion to consume controlled substances and/or prescription drugs, threatened plaintiffs with physical injury and economic harm, all with the intent to humiliate plaintiffs and subjugate them to their will."
In addition, the lawsuit claimed, DEN execs plied them with "valium, vicodin, xanax, percocet, marijuana, hashish, ecstasy, and rufinols" during wild parties at the company's Encino mansion, which was once owned by Suge Knight — the same mansion at the heart of Egan's new lawsuit.
The plaintiffs were awarded a default judgment of more than $2 million in that case. (A default judgement is not an admission of liability.)
Article continues below advertisement
Were Singer, Ancier, Goddard and Neuman really blind to where their money was going and what kind of behavior it was funding? The attorney who represented the DEN employees, Daniel Cheren, doesn't think so.
"Some of these investors received in addition to their stock, a piece of a male brothel for their money," he previously told a reporter. "Anyone who had a dinner at that estate or went to a party there, had to know what was going on."
As RadarOnline.com has reported, Egan's lawsuit has describe sex-and-drug-fueled pool parties in California and Hawaii, where he said he was seen as "a piece of meat" by guests who allegedly violated him orally and anally at the events.
Other investors named in the SEC documents obtained by RadarOnline.com include Wonder Years actor Fred Savage, his brother, Ben Savage, Yahoo's Terry Semel, Arianna Huffington's ex, former Senator Michael Huffington, super-agent Gary Gersh, Wall Street honcho Mitchell Blutt, A&M Records head Gilbert Friesen (now deceased) -- and dozens of other Hollywood bigwigs, none of whom have been in any way implicated in the sex ring investigation.