Exclusive
Fight To The Finish! Bethenny Frankel Refuses Jason Hoppy's Offer To Settle Bitter Divorce – For $10M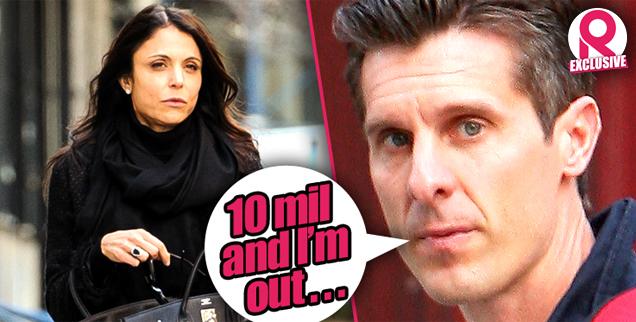 The divorce battle between Bethenny Frankel and Jason Hoppy has been raging for more than 15 months, and doesn't appear headed for a resolution any time soon: RadarOnline.com has learned that the failed talk show host has turned down an offer from the pharmaceutical sales executive to settle the whole thing for $10 million.
"Jason is willing to take a $10 million settlement in the divorce from Bethenny," an insider told RadarOnline.com. "He feels entitled to that large amount because he helped her to launch Skinnygirl. She sought his advice and counsel on the cocktail line from the beginning and up until the sale."
Article continues below advertisement
"As for child custody," the source continued, "Jason is agreeable to joint custody of Bryn."
Perhaps unsurprisingly, Frankel turned the multi-million-dollar offer down. "She thinks it's outrageous that Jason is demanding so much money," the source explained.
Just two weeks ago, Hoppy was spotted at a New York City courthouse squaring off against Frankel, and wasn't wearing his wedding ring -- the first time he was spotted without the band since the couple split almost eighteen months ago.
Meanwhile, Frankel was recently called out in yet another lawsuit involving her ex-"boyfriend," billionaire Warren Lichtenstein, whose baby mama is suing him for child support.
Annabelle Bond, who has a six-year-old daughter named Isabella with Lichtenstein, 49, claimed he is "traveling the world on private jets, expanding his huge compound in Aspen . . . living in a beachfront mansion in California, and dating Bethany (sic) Frankel."
Frankel also seems to have potentially violated the gag order a source told RadarOnline.com was imposed on the couple. Appearing on Andy Cohen's Watch What Happens Live recently, Frankel spoke about her divorce, saying it was a "really, really hard time."
Frankel has finally moved out of the couple's tony NYC home, which Hoppy refused to leave, and has tried repeatedly to end the marriage that fans watched happen on her reality show Bethenny Ever After.