The Ring Is FINALLY Off! Bethenny Frankel's Estranged Hubby Jason Hoppy Discards Wedding Band For Courtroom Showdown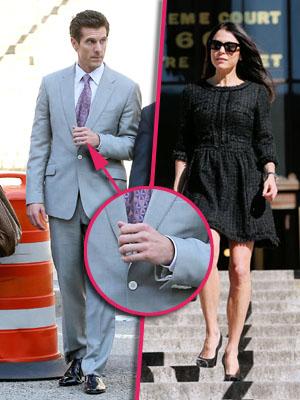 Article continues below advertisement
Hoppy's bare wedding ring finger was a first for the husband of the Skinnygirl mogul.  He previously refused to take it off, a move that enraged Frankel as she has fought to separate from him.
Frankel was recently called out in a lawsuit involving her ex-"boyfriend," billionaire Warren Lichtenstein, whose baby mama is suing him for child support.
Annabelle Bond, who has a six-year-old daughter named Isabella with Lichtenstein, 49, claims he is "traveling the world on private jets, expanding his huge compound in Aspen . . . living in a beachfront mansion in California, and dating Bethany (sic) Frankel."
Frankel also seems to have potentially violated the gag order a source told Radar was imposed on the couple.  Appearing on Andy Cohen's Watch What Happens Live recently, Frankel spoke about her divorce, saying it was a "really, really hard time."
Frankel finally moved out of the tony NYC home he refused to leave and has tried repeatedly to end the marriage that fans watched happen on her reality show Bethenny Ever After.