Exclusive
The Girl Sandra Left Behind: Jesse James' Daughter Sunny Is All Grown Up -- And Dating?! -- Five Years After Bullock Cut Off Contact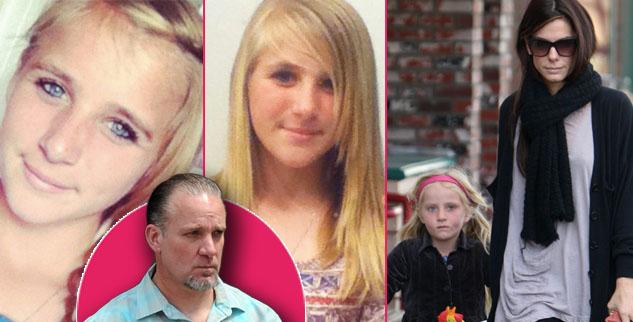 The whole world felt Sandra Bullock's pain when it was revealed her husband, Jesse James, had been cheating on her with a parade of mistresses. But in the fall-out of the explosive allegations and the couple's subsequent divorce, James' daughter, Sunny, was the littlest victim. WIth her own mother, Janine Lindemulder, in jail for tax evasion, she had adopted Bullock as a sort of second mom -- until the star cut off all contact after the cheating scandal. Nearly five years after James' affair, RadarOnline.com has an exclusive look at the little girl who Bullock left behind -- now that she's all grown up!
Article continues below advertisement
Now ten, the adorable blonde lives with her dad in Newport Beach, California, and pictures posted on her public Facebook page show that she is the spitting image of her dad, with her mom's golden locks.
A country music fan, Sunny lists Lady Antebellum, Jason Aldean, Blake Shelton and Avril Lavigne as her favorites. She also "likes" heartthrobs Ian Somerhalder, Zac Efron and Paul Walker, and is a member of a "Teen Dating" group, indicating that if she's not dating yet, she could be bringing home a boyfriend to pass the dad test soon!
Monster Garage star Jesse had moved her to Austin, Texas, shortly after the cheating scandal in the hopes that she would stay close to Bullock, and he could maintain a relationship with the son he and Bullock had been trying to adopt, Louis. But that was not to be.
"I moved to Austin so the kids could keep a relationship and I could kind of keep a relationship with Louie, and then whatever else happened besides that," he told Good Morning America in 2011. But despite his best efforts for them to keep in contact, he revealed that Bullock distanced herself post-split, saying, "She's seen Sandra a couple times, but there's been no contact at all for several months."
Bullock eventually adopted Louis on her own, which James called "painful."
But he admitted, "I could only cry so much about him until I have to, like suck it up and keep a stiff upper lip, and realize, hey, I have three kids that I do have."
Do you think Bullock should have maintained her relationship with Sunny after the split? Or would it have been too painful? Let us know in the comments!