Jesse James Allowed To Move Daughter To Texas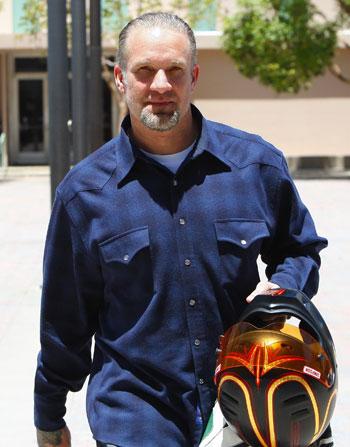 Jesse James won a dramatic custody victory on Tuesday when a court ruled he is allowed to move his daughter to Texas. His ex wife Janine Lindemulder spent more than a week fighting Jesse's planned move with their daughter Sunny.
Court Documents: Read The Verdict
Commissioner Thomas Schulte ruled that both parents will have joint legal custody of the six-year-old but that it was in the child's best interest for her to go with her dad to live in Austin.
Article continues below advertisement
As Schulte read his ruling to the Orange County Family Court, Lindemulder burst out crying and screamed, "I'll move, I'll move." The former porn star vowed earlier in the proceedings that she would "live in a tent to be beside Sunny."
Under the terms of the agreement, the distraught mom will be allowed to have Sunny for the rest of the summer beginning on Thursday, until school starts in Texas in August.
Thereafter, she will be allowed to visit her daughter, including at least one weekend per month with Sunny in California, plus the majority of the holidays.
The judge ruled that Sunny had a great bond with her older siblings, Chandler and Jesse James Junior, and was thriving living with her father.
As James left the court, he remained tight lipped but smiling about the decision. He is expected to move to Texas at the end of the month, where he has bought a $2 million mansion just miles away from ex-wife Sandra Bullock.
In the closing statements on Friday, James' lawyer John Schilling said that there was no comparison between James and Lindemulder.
He said, "She is an admitted drug addict, stripper, criminal and porn actress, who has moved nine times in the past five years. The only stability she has had was when she was in prison for six months."