Jesse James Speaks Out Against Ex-Wife In Custody War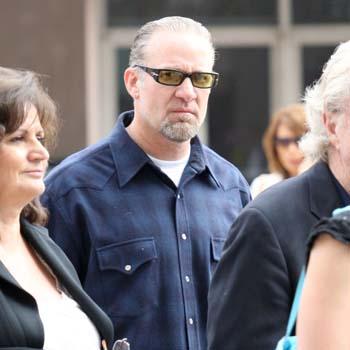 Motorbike mogul Jesse James took the stand in the bitter custody dispute with ex-wife, Janine Lindemulder, at the Orange County Family court on Monday.
James claimed that in a telephone conversation with Lindemulder that she admitted to being on really strong anti-depressants that made her spin out when she tried to change the medication.
James also alleged that former porn star Lindemulder has asked her ex-spouse, Jeremy Aikman, to get take anti-depressants, but conceded that Lindemulder had tested clean for illegal drugs during four ordered-tests.
Article continues below advertisement
Sandra Bullock's ex-husband revealed to the Orange County Family court that the Oscar winner looked after his six-year-old daughter, Sunny, while he was in rehab in Arizona last March following his sex scandal.
James told the court that Sunny visited him during his month-long stay but did not make it clear if Bullock was with her at the time.
The court heard that Sunny has her own private phone so that visits can be arranged. James revealed that Bullock had access to the phone.
EXCLUSIVE: Jesse James' Sister Supporting Him In Bitter Custody Battle
Under cross examination, Lindermulder's lawyer Richard Masson argued that James did not take her calls or comply with court ordered visits.
James countered that he understood the visits were to be supervised when in actual fact the court order stated that Janine was to see Sunny privately.
Commissioner Thomas Schulte at Orange County family court clarified that the hand-overs were to be supervised because the paparazzi had been chasing Sunny and her mom.
MORE ON:
Janine Lindemulder
Article continues below advertisement
James went on to deny allegations by Lindemulder that he had been working with Jeremy Aikman to frame her.
EXCLUSIVE: Jesse James' Ex Tells Cops – 'He Is Trying To Spike My Food & Drinks
RadarOnline.com was the first to report that Lindemulder had contacted police because she feared for her safety.
"This guy (James) won't stop until he drives me into the ground," Lindemulder told exclusively told RadarOnline.com. "I went to an Orange County police station to voice my concerns because I believe he wants to try and spoil my food or spike my drinks so that I have a dirty drug test.
"I've been told he might use a mutual female friend to try and trick me - this guy will stop at nothing to get his way."
Lindemulder's lawyer Richard Masson claimed that James had arranged to pay her $4,000 a month for child support and that he would fly Sunny on a private jet to see her mom during her stint in a half-way house in Oregon. James has refuted these claims saying no such conversation ever took place.
Jesse's sister, Julie James England, is also in court and expected to give evidence. The case continues.