Exclusive
EXCLUSIVE: Jesse James' Ex Tells Cops- 'He Is Trying To Spike My Food & Drinks'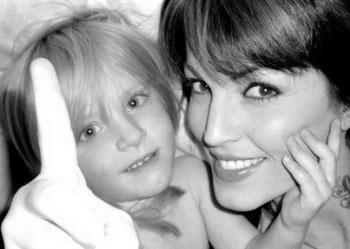 Jesse James' ex Janine Lindemulder has contacted police because she fears for her safety amid her messy custody battle with James over their daughter Sunny, RadarOnline.com has learned exclusively.
The former porn star believes that Sandra Bullock's ex-husband is actively trying to sabotage her bid for Sunny ahead of their July 12 showdown at Orange County Family Court. James is planning to re-locate to Austin, Texas, (where Bullock has a home and several businesses) with Sunny. His first wife Karla already is making arrangements to make the move as well with their two kids Chandler and Jesse, Jr. RadarOnline.com recently reported that Lindemulder wants to stay in California and believes that James will stop at nothing to get his way.
Article continues below advertisement
EXCLUSIVE: Jesse James' Ex-Wife Splits With Husband To Pursue Custody Claim
"This guy won't stop until he drives me into the ground," Lindemulder told RadarOnline.com. "I went to an Orange County police station to voice my concerns because I believe he wants to try and spoil my food or spike my drinks so that I have a dirty drug test.
"I've been told he might use a mutual female friend to try and trick me- this guy will stop at nothing to get his way.
"The police told me that they need more evidence but at least now if something happens to me they have been warned – I'm sick of Jesse's bull----."
James' lawyer did not respond to the allegations when contacted by RadarOnline.com.
The bitter custody battle between James and Lindemulder took a bizarre twist recently after her estranged husband Jeremy Aikman wrote to the court saying she was an unfit mom. Aikman later retracted the claims which RadarOnline.com revealed he made after having a private telephone conversation with James who persuaded him to pen the poisoned letter against Lindemulder.
Article continues below advertisement
Commissioner Thomas Schulte threw out James' attempt to block Sunny's visits with her mom after Lindemulder presented an e-mail that Aikman subsequently wrote to Janine. In it, he admitted to acting "very immature" and to having "told Jesse James things about Lindemulder that were not true."
But Lindemulder believes that James will continue to try and defame her as he tries to get his way ahead of their upcoming court date.
She added: "What is the point of me going to Texas because they don't want me to be involved in co-parenting Sunny. Jesse's lawyer recently sent my lawyer a letter claiming that I was not feeding our daughter during her visits with me.
"Apparently Sunny is now a vegetarian after living with Jesse and Sandra but nobody told me and I was feeding her chicken strips and burgers -just normal stuff for kids.
Article continues below advertisement
EXCLUSIVE VIDEO INTERVIEW: Jesse James Ex-Wife Thanks Sandra Bullock After Winning Visitation To Daughter
"They also accused me of not putting enough sun block on Sunny. It just never stops, he is trying to find any excuse to say I'm an unfit parent," she added. "This is the latest attempt to sabotage my custody bid- this is all about what Jesse wants, nothing else."
Despite the continuing legal battle, Lindemulder says she is committed to her cause. "I have passed every drugs test that I have been asked to take and this will continue because I am clean," she said. "I'm determined to fight for my rights to see Sunny because she is my daughter and nobody can change that.
"Things are getting pretty heated ahead of our court case and I am in fear of this man because I know what he is capable of- that's why I went to the police."